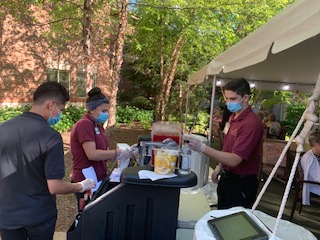 There's good news, and now, even better news at Monarch Landing senior living community in Naperville.
The good news, which is admittedly old news, is that the residents are still enjoying freshly prepared, delicious and nutritious meals, and have a great variety from which to choose. Although they've been sheltering-in-place in the interest of protecting their health, the residents have not had to compromise on fine dining during COVID-19. During the first phases of the health crisis, meals were delivered safely to the residents' apartments as the restaurants on campus remained closed. As the community gradually reopens in some areas, residents are now able to go and pick up their meals if they'd like.
Chef Sean Curry reported that during this entire time, his team has been consistently offering four main dish options every day, along with a salad, soup, and dessert. The menu changes daily. "We cook about 400 meals a day, plus lunch for 60/80 employees so that they can stay on campus for their meal. Additionally, we spent 12-15 hours during the day, cleaning and sanitizing the front and back of the house."
The 'even better' news is that Monarch Landing's courtyard grille is now open, weather permitting, allowing residents to eat, socially distanced, on the beautiful patio adjacent to the pool. The benefits of fresh air and seeing their friends is a very welcome reprieve!
With the outdoor area's reopening, Curry's team will add grilling and enhanced sanitation of the patio to their repertoire of responsibilities. For residents not quite ready to venture out, the culinary team will continue to log in miles as they deliver the carefully prepared and packaged meals to the residents' apartments.
Monarch Landing has also been helping residents stocking up with their own groceries. In the interest of keeping them home during the first phase of the quarantine, the staff partnered with local Family Foods. Residents used a hotline through the Monarch Landing team, which made sure that the orders were placed. The items were all subsequently delivered to Monarch Landing, where the team sorted and separated the items and then brought them to the respective apartments within 15-20 minutes of arrival. With the gradual re-opening of some areas now, residents are able to come down to the lobby to pick up their orders.
"The dedicated staff at Monarch Landing keeps taking on new and different responsibilities to follow guidelines while also providing excellent services and amenities to the residents," said Mark Trnka, executive director of Monarch Landing. "This has been such a challenging time for everyone. We're so proud of our team for stepping up and doing whatever it takes to keep our residents safe, healthy, and engaged. And well-fed."