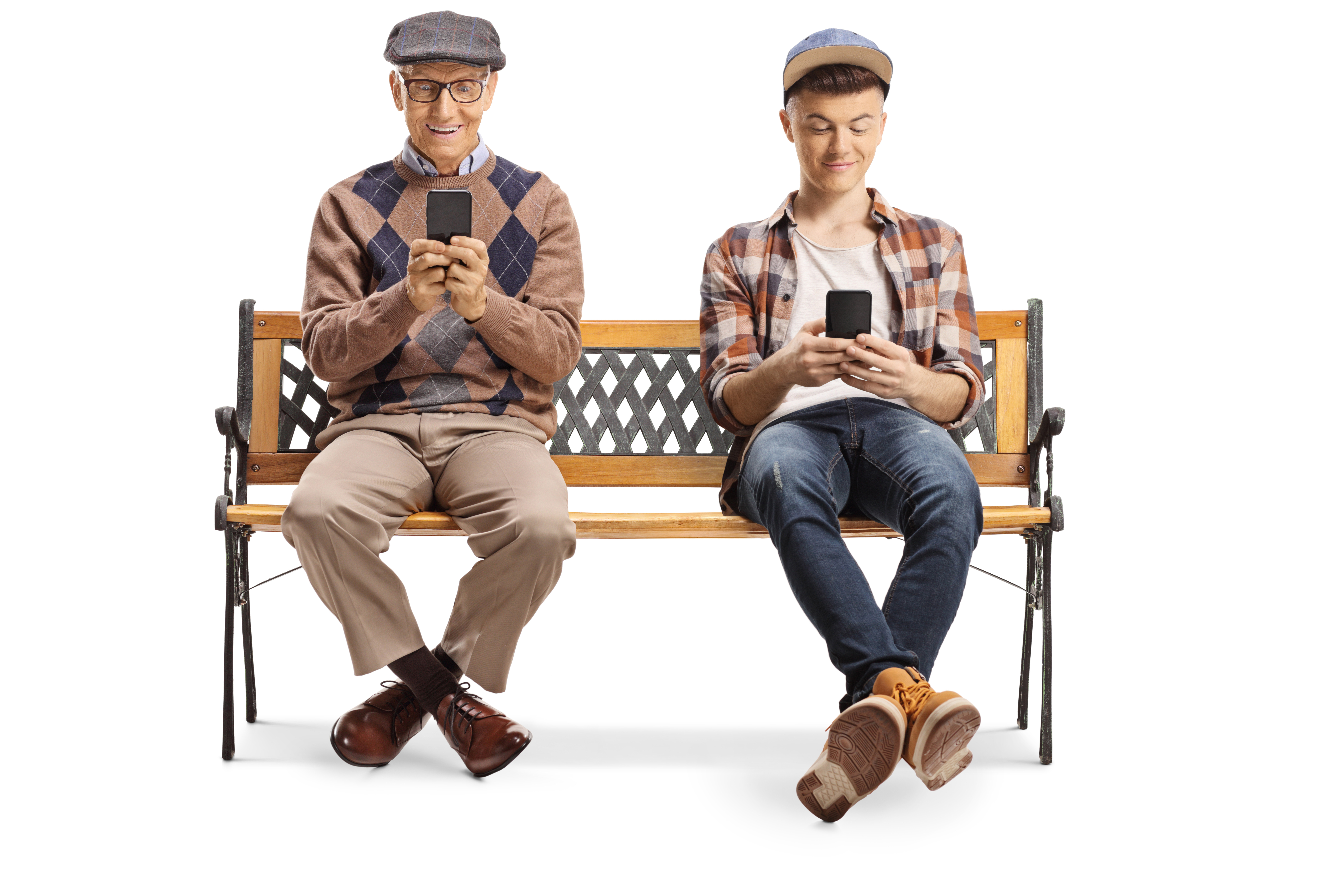 While many senior citizens have no problem connecting with young children—with whom they can share knock-knock jokes, a game of checkers or a favorite storybook—finding common ground with older teens and young adults can sometimes pose a challenge.
One reason is that their world can seem so different. For most young adults, life revolves around technology. Their conversations feature text abbreviations and urban dictionary slang, and it can seem as if they've shrugged off many dearly held traditions.
While there has always been a "generation gap" between older and younger Americans, that gap has widened dramatically over the last couple of decades with the explosion of technology and the changes roiling society. Even though many seniors are increasingly embracing the use of technology, they often do so differently than teens. For example:
Young people exchange text messages; seniors may prefer to talk on the phone.
Young people binge watch series online; older adults may enjoy weekly episodes of their favorite TV shows.
Young people check the date and time on their ever-present smartphones; seniors may prefer a wall calendar and a wristwatch.
Young people use smartphone apps to reimburse friends and settle their debts electronically with debit cards and online bill pay platforms; seniors may use cash or write checks.
Young people are renowned for taking "selfies" on a constant basis; older adults often prefer framed photos of family members.
Young people have abandoned cursive handwriting for texting and emailing; many seniors enjoy sending and receiving handwritten letters and cards.
Young people send their birthday greetings on Facebook or via text; seniors carefully select a lovely card and mail it well in advance.
The good news is that seniors and young adults are learning to celebrate these differences, but also finding the common ground that is just beneath the surface. And nothing could be more worthwhile. When seniors form a close relationship with teens or young adults, both groups benefit tremendously.
Intergenerational relationships enable both seniors and younger people to learn new skills, fill a void for those who don't live near their grandchildren or grandparents, help keep family history alive, provide life lessons and important insights to younger adults, and help seniors feel more energized and less isolated. They also can reduce or eliminate depression in the elderly.
A Harvard study that has tracked more than 700 men since 1938, established that relationships are key to our well-being—especially as we age. Those who develop ties that extend across generations triple their chances of being happy during their 70s.
Benefits for younger people who regularly spend time with the elderly include increased self-esteem and self-confidence. In fact, these relationships are so mutually rewarding that a number of programs have been developed to facilitate them, including shared living arrangements for college students and lonely seniors.
So what are some good ways to enjoy quality time with the tech-crazy teens or Millennials in your life? You might be surprised at how much you have in common. Here are some possibilities:
Movies—Why not take turns introducing each other to some generational favorites? You could alternate classics such as "The Godfather" and "Roman Holiday" with something from the X-Men franchise or one of the Harry Potter films.
Games and puzzles—Americans have rekindled their love for puzzles while in isolation with COVID-19, and that's because they are a great way to pass time in the congenial company of others. Classic games are also the perfect intergenerational entertainment. You can try a timeless game of Monopoly or Scrabble or opt for one of hundreds of newer games that have been gobbled up by the young adult market.
Baking—No one ever outgrows the satisfaction of a fresh batch of chocolate chip cookies, which is why baking together is a loving tradition in many families. But why not branch out from there and share the joy of cooking—and eating—favorite recipes with your young adult friends and family members?
Slang—Each generation has its lingo, and what could be more fun than sharing and comparing those turns of phrase with younger people? Little do you know that your "frosted" closely approximates their "salty" and that their "spill the tea" equals your "spill the beans." Throw them for a loop by asking about their favorite "lids" and "kicks," and let them tell you the latest "cringey" thing their mother did.
Reading—Nothing is more ageless than literature, so why not establish your own book club for two and take turns choosing the month's selection?
Technology—While some seniors are intimidated by technology, young people view it as their native language. Why not offer to teach a young friend or family member a skill such as knitting or crocheting in exchange for help with expanding your tech savvy?
With the help of a Chicago-area teen, residents of The Springs Health and Rehabilitation Center at Monarch Landing have participated in virtual face-to-face gatherings each week that involve sing-alongs, discussions of interests and hobbies, and anything else they wish to chat about. Another area teen has established a pen pal program with her group of volunteers and residents of The Springs. The joy that results goes both ways, with residents and the teen volunteers enjoying their connection.
Finding common ground with the young adults in your life may feel like an apples-and-oranges proposition, but it really isn't. You were young once; they will someday be old. You have much to learn from each other.