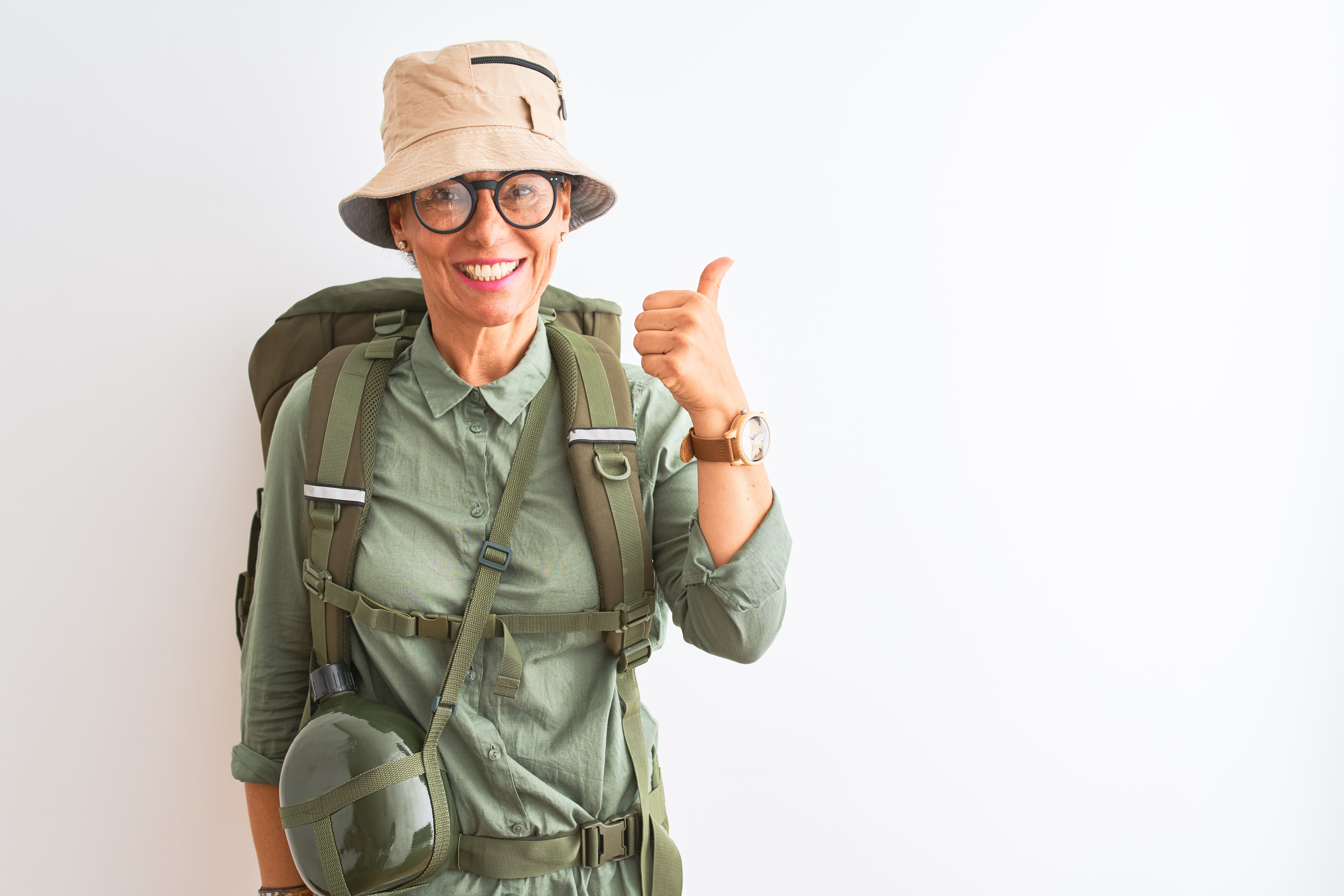 When you think of thru-hiking on the 2,190-mile Appalachian Trail (AT) or the 2,650-mile Pacific Crest Trail (PCT), images of energetic young hikers with state-of-the-art equipment probably come to mind. But you might be surprised to learn that the first woman to hike the entire AT by herself was a 67-year-old grandmother in Keds sneakers who told her 11 children in the spring of 1955 that she was going on a walk. She covered an average of 14 miles a day on the trail, which stretched "only" 2,050 miles at the time.
Grandma Gatewood, born Emma Rowena Caldwell, returned to the AT twice—for another thru-hike in 1957 and to hike it in sections in 1964 when she was 75. She also hiked the 2,000-mile Oregon Trail—from Independence, Mo., to Portland—when she was 69 and played a key role in establishing Ohio's Buckeye Trail.
While Grandma Gatewood may sound like an outlier, there have been several elderly hikers who have gone the distance and then some. Nan "Drag 'n Fly" Reisinger became the oldest woman to thru-hike (complete a trail within a 12-month period) the AT in 2014 at age 74. In total, she has hiked 6,000 miles of the trail over the years.
George "Billy Goat" Woodard, 81, of Maine, hiked the PCT all or in part 10 times and has spent 150 days a year hiking since he retired as a railroad conductor at age 49. Considered the guru of the PCT, his goal was to cover 50,000 miles of trails by age 80 despite undergoing a quadruple bypass on his heart in 2014.
And in 2017, Dale "Grey Beard" Sanders, 82, powered through heart palpitations and internal bleeding to become the oldest man to thru-hike the AT. He had paddled down the length of the Mississippi River two years earlier.
What's the secret of these super senior hikers? It may not be as elusive as it seems. Walking is one of the best exercises for senior citizens because it is accessible, requires no special equipment beyond a good pair of shoes, and offers a number of health benefits, including increased cardiovascular fitness, a reduced chance for disability, healthier joints, enhanced balance, a lower risk for diabetes and other chronic diseases, better weight control, and a longer lifespan. Walking also gives older women, in particular, protection against memory loss and declines in mental processing.
If possible, keeping up a brisk pace also is important. Researchers have found that the faster an older person is able to walk, the longer they are likely to live. The exception is seniors who, although are capable of moving more quickly, prefer a more leisurely pace.
But while walking the grounds of your senior community, the local mall, or a nature path are all great from a health standpoint; you may need to put in a little extra effort if you entertain dreams of hitting the hiking trail. And many seniors are doing just that.
Older people who get the all-clear from a physician can aspire to long-distance hiking, although it may take several months to train for such an endeavor. The idea is, to begin with, daily walks, logging your distance, time, and route as well as how you felt during the walk. You might split your walking time into two daily walks, morning and afternoon, and add some other strength-building exercise, such as swimming or Pilates, which will strengthen your core.
You'll need some basic equipment before hitting the trail, including comfortable, lightweight, water-wicking hiking shoes, walking poles to help with balance on uneven surfaces and to take some pressure off your knees, a broad-brimmed hat for sun protection, and a hip pack where you can stash water, snacks and a first aid kit. Remember, whenever you walk or hike, it's essential to stay well hydrated.
Once you're ready to venture out, consider checking out trails that are especially good for senior hikers. Or, stay closer to home by taking a virtual hike on a breathtaking trail. While it won't be as strenuous as the real Bright Angel Trail at the Grand Canyon, the Google Earth National Parks project will give you a pretty good idea of what that feels like to hike that 7.9-mile stretch. You also can make a treadmill walk less boring with any number of YouTube videos that can virtually put you on the trail anywhere in the world.
But with fall weather beckoning, the best option for a walk or longer hike may be the Illinois Prairie Path, which is adjacent to Monarch Landing. The 61-mile trail, which was the first rail-to-trail conversion in the U.S., runs through Cook, DuPage, and Kane counties. It includes three branches and two spurs of the old Chicago Aurora and Elgin electric railroad and features a crushed limestone surface that is easy on well-worn feet.