Feeling Safe and Cared For at Monarch Landing
July 26, 2021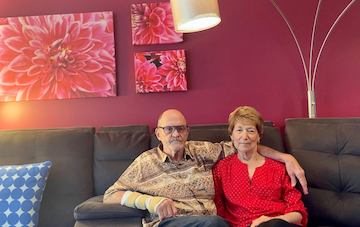 They'd kept an eye on Monarch Landing senior living community in Naperville from the time it first broke ground 15 years ago. Sherry Bryant and her husband John Uhrich lived in a townhome a mile away and love the area. "A friend from church invited me to a luncheon at Monarch Landing several years ago, and I ended up looking around. I knew that this is what I wanted. I didn't want us having to take care of the house anymore," she said. Now, two and a half years later, Bryant's only wish is that they'd made the move sooner.

Explaining that the couple, both retired social workers, are always interested in staying busy, Bryant said Monarch Landing meets and even exceeds their expectations. "I really love all the activities going on here. We go to the fitness center, library, book discussions, movies, a piano discussion group, and much more."

Bryant said that they decided to make the move to a senior living community before a decision was made for them. "We didn't want to have to wait until our kids made us move, or we had medical problems necessitating a move. We'd been through a bad winter. Now, it's nice being inside and doing everything we want to do, without having to deal with home maintenance or snow removal."

The Hastings, two-bedroom, one-and-a-half-bath apartment home was the first model they looked at, and "we immediately knew this was it," said Bryant. "What I love about our apartment is that it's so open. We have a big kitchen. I don't cook so I don't need it, but it's open and a lovely place to have coffee. This is exactly what I wanted; the look and feel of lots of space and sun."

Bryant marvels at the remarkable residents at Monarch Landing. "There are people with tons of interests, hobbies and passions: reading, working out, woodworking, lifelong learning, art.  There's a resident who built a telescope and one who builds ships and tells the history of them. People are walking and working out all the time. The people are energetic and extremely inspiring," she said. 

While there's plenty to do within Monarch Landing's beautiful campus, Bryant also enjoys the community's close proximity to wonderful venues. She said she loves hiking at Cantigny and the Morton Arboretum and attending concerts at Fermi Lab, College of DuPage, and more.

The food at Monarch Landing, Bryant raved, is "fantastic. I can't say enough good things about it." She added, "The staff here is wonderful. They're here when you need them, and are always happy, always kind."

Bryant said that during the lockdown because of COVID, "we were relieved not to have to go outside for anything. That's why we came here. We felt safe and cared for. We've never been surrounded by so many intelligent, interesting, and fun people." 

"We are so happy here and so impressed with everything. We feel taken care of, and still, we have this freedom to enjoy everything. I think we're more active now than when we were living in a townhome. I don't know why we didn't move sooner.