Happy in Her Home
April 3, 2020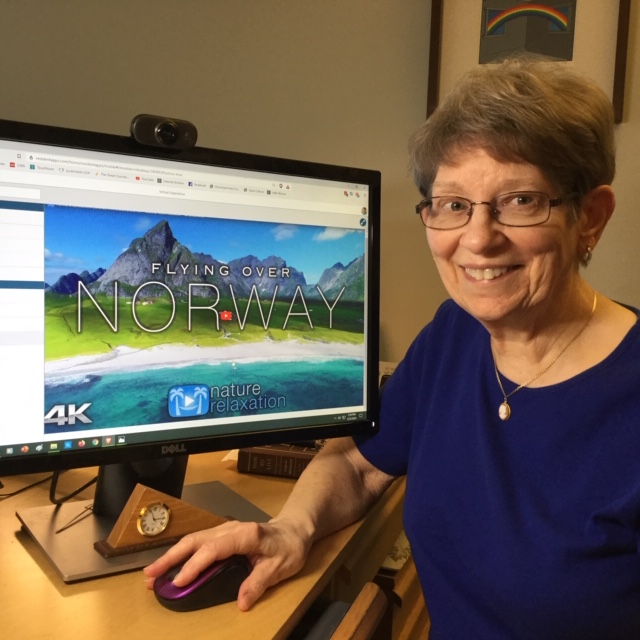 "Every day, I am grateful I'm here," said Kate Carmichael, a resident of Monarch Landing senior living community in Naperville.
Older adults who are not living within the secure environment of a retirement community are having to navigate crowded grocery stores and miss out on activities and social connectivity. Kate said that she feels safe, cared for, and engaged within her apartment at Monarch Landing.
In addition to having meals prepared and delivered to her door, Kate said that the staff at Monarch Landing has partnered with a local store to have grocery and household items delivered. "Residents don't have to go out at all. Frankly, I'm relieved that I don't need to leave. The fewer people out anywhere, the better. Another reason we're glad we don't own a home anymore is if something went wrong with an appliance or with the plumbing, it would be difficult to get service. Here, we just put in a maintenance request to General Services."
The lifestyles team at Monarch Landing is making sure that the residents' activities calendars remain robust. "Marissa Krueger, our wellness manager, has posted videos of her fitness classes on Touchtown, our resident internet portal, and on our in-house TV station, which is broadcast to our apartments." Other daily opportunities include comedy or musical entertainment, brain games, TED Talks, educational programming, and more.
A self-professed techy, Kate is also enjoying virtual experiences that Sherry DeFillippo, lifestyle manager, has shared with residents. "There are fun links to adventures like the Atlanta Zoo's live panda cam, and YouTube videos like flying over Norway," said Kate. She can virtually travel the world, tour museums and historical sites, watch Broadway shows, and enjoy concerts, all from the comfort of her apartment.
Kate said that a group of residents of Monarch Landing have traditionally eaten together whenever meatloaf appears as one of the options on the dining menu. With meatloaf being offered this weekend, Kate has learned how to use ZOOM video conferencing tool in order for the friends to be able to virtually dine together. "We talk regularly on the phone, but this allows us to see each other too," she said.
"I must say that technology has made sheltering in place a whole lot more pleasant. I'm never bored. The days go by just as quickly as they did when I was out and about," she said.
"I can't say enough good things about our staff. They are fantastic and have really been ahead of the curve. They started instituting measures towards social distancing weeks ago. All of us are safe, well-fed, and kept well informed during this unprecedented time," Kate concluded.