Popular High School Coach and Santa Claus Living at Monarch Landing
December 6, 2021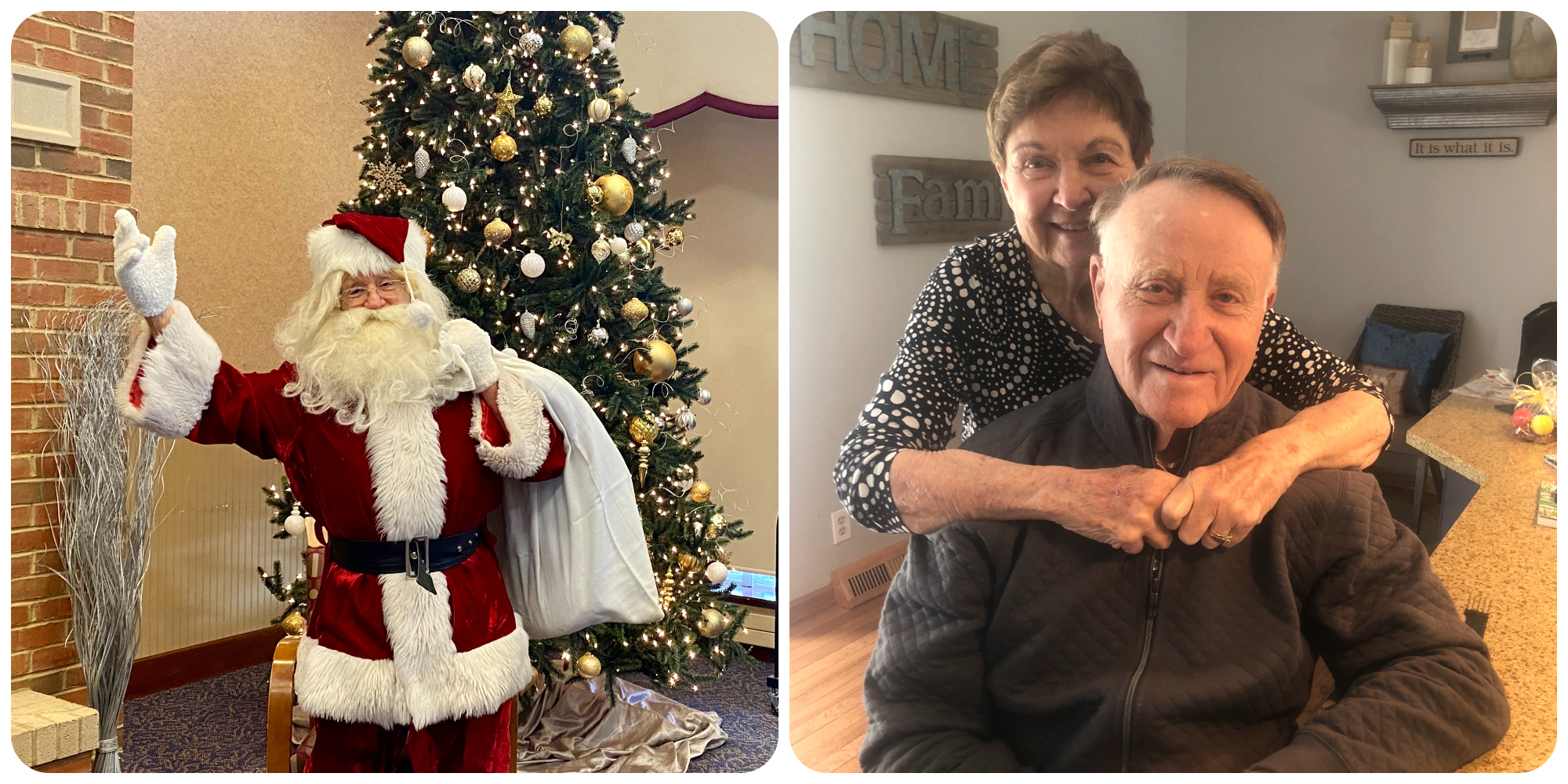 He's a little bit of a local celebrity. Fred Yndestad, a resident of Monarch Landing senior living community in Naperville, is highly recognizable and greatly beloved. The long-time athlete, teacher, and coach is also known for donning a Santa costume for parties and organizations and can even be recalled playing Santa on ice skates at All Seasons Ice Rink.
Residents of Naperville, Yndestad and his wife Jackie moved to Monarch Landing three years ago. "We looked around quite a bit at senior living communities in this area and in Florida. Quite frankly, they chose Monarch Landing because of the high level of activities. My Dad is very active," said his daughter, Kristen Salerno of Sugar Grove. "He's often using the pool and the fitness center at Monarch Landing."
A fan of virtually all sports, Yndestad's main passion has always been baseball. He played at Proviso East High School, through his college years and in the Army. When he graduated from Northern Illinois University, he started his profession as a teacher, first at a grade school and then high school in Berwyn. A resident of Wheaton, Yndestad, found the daily commute difficult, so he looked for a job closer to home. In 1956, Yndestad started at Naperville Central and North High Schools. During his 37-year tenure, he taught social studies, physical education, and drivers' education while also coaching baseball, helping to develop an intramural program, and starting a hockey program for the Naperville Park District.
Approximately 50 years ago, Yndestad was given a retired Santa Claus costume to entertain his young children. "I put the suit on and never wanted to take it off," he recalled. He subsequently wore it for school gatherings, senior living communities, country clubs, community organizations, conventions and conferences. A favorite tradition of his was visiting nearby residents with special needs, with Channel 7 newscaster Alan Krashesky.
"I'm still playing Santa for anyone that asks," Yndestad said. While there are professional Santas who have gone to training and earn a substantial income in the role, Yndestad noted he has always done it "just for the joy. I love to see the expressions on the children's faces, the merriment. It's just a fun time for me."
Yndestad's wife Jackie recently moved from their independent living apartment to The Springs at Monarch Landing, where she receives memory support. "The staff there and the care they provide is amazing," said Salerno. Yndestad will be donning his Santa suit and visiting the residents at The Springs on December 21st. "He's so happy that he has the opportunity to play Santa here," said Salerno.