Residents Recognized During National Volunteer Week
April 26, 2021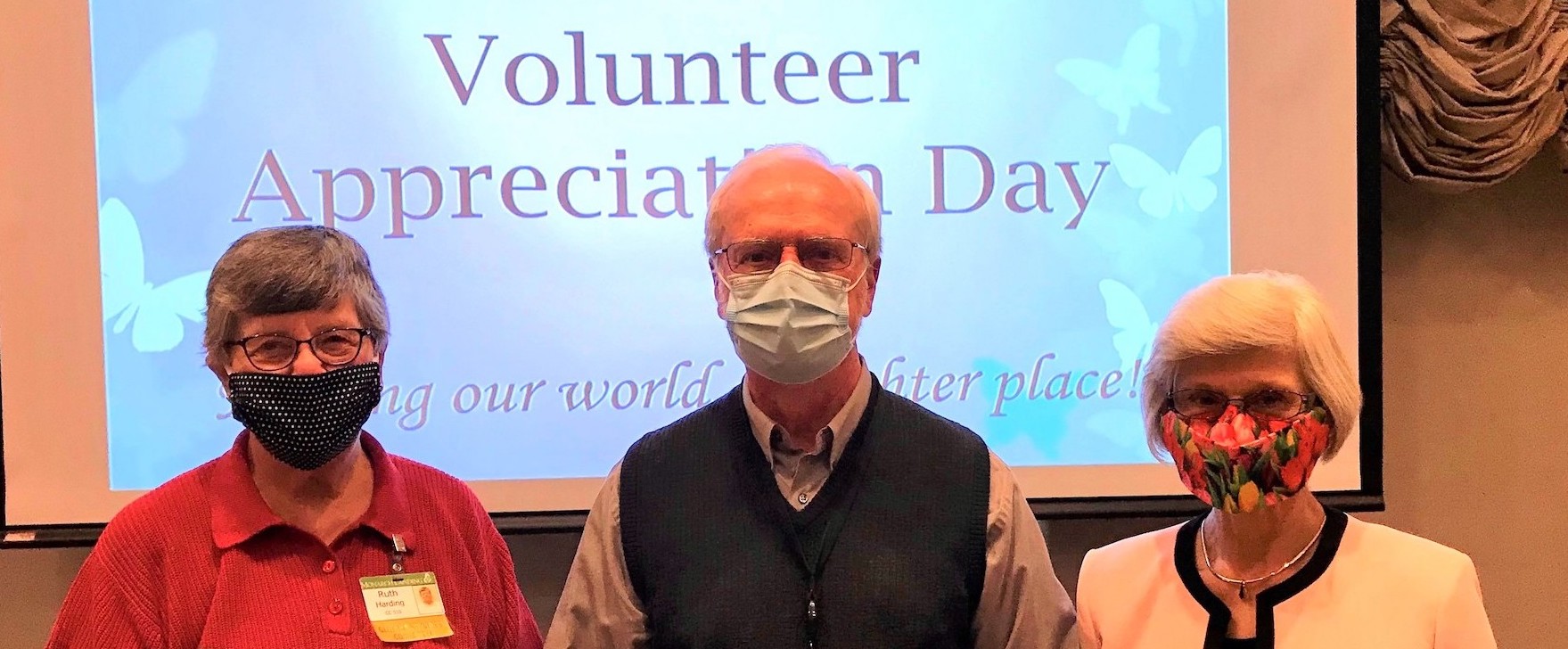 During National Volunteer Week, Monarch Landing senior living community had a large number of residents to recognize for their efforts. Among the generous group of volunteers were three noted for the assistance provided to their fellow residents and staff during the year of COVID.
Ron Sellberg was honored for his work with Monarch Landing's in-house television station, MLTV. Much of the senior living community's entertainment and programming during COVID was shared with residents via MLTV. Ron has worked on the TV crew since 2009, with responsibilities including recording, editing and posting videos and documenting editing procedures. This year, on every Saturday Movie Night, Ron fulfilled his duty of pushing 'play' for the selected flick, helping to entertain the residents in their apartments.
Ruth Harding has worked on Monarch Landing's library committee, which this year was especially important. The committee members had talked about how to provide residents with books while the library was closed during COVID. Ruth was an integral part of developing and running a system that worked well. When residents requested a book, she would retrieve it, bag and tag it, and leave it at the front desk for the resident. When the book was returned, she cleaned and quarantined it, then returning it to the shelf. During the year, she processed almost 800 requests from residents and employees.

Ruth also accepted donated books for cataloging and adding to the library system. Additionally, she took unneeded books to Half Price Books. Proceeds of resulting sales were used to purchase new items for Monarch Landing's library.
Pati Saulig headed up an initiative that has kept fellow residents and staff safe and fashionable while generating proceeds for the Staff Appreciation Fund. Beginning in April of last year, Pati started sewing bright, colorful, and comfortable masks, which were sold on-site. Almost 900 of the cloth masks have been created, generating nearly $7,000 for the Staff Appreciation Fund.
"We are always impressed and grateful by the generous and creative nature of our residents. This was especially important during what was a challenging year, and our residents rose to the occasion," said Sherry DeFillippo, lifestyle manager.