Celebrity Chemist and Beloved Local Science Teacher Enthralls Fellow Residents
June 29, 2022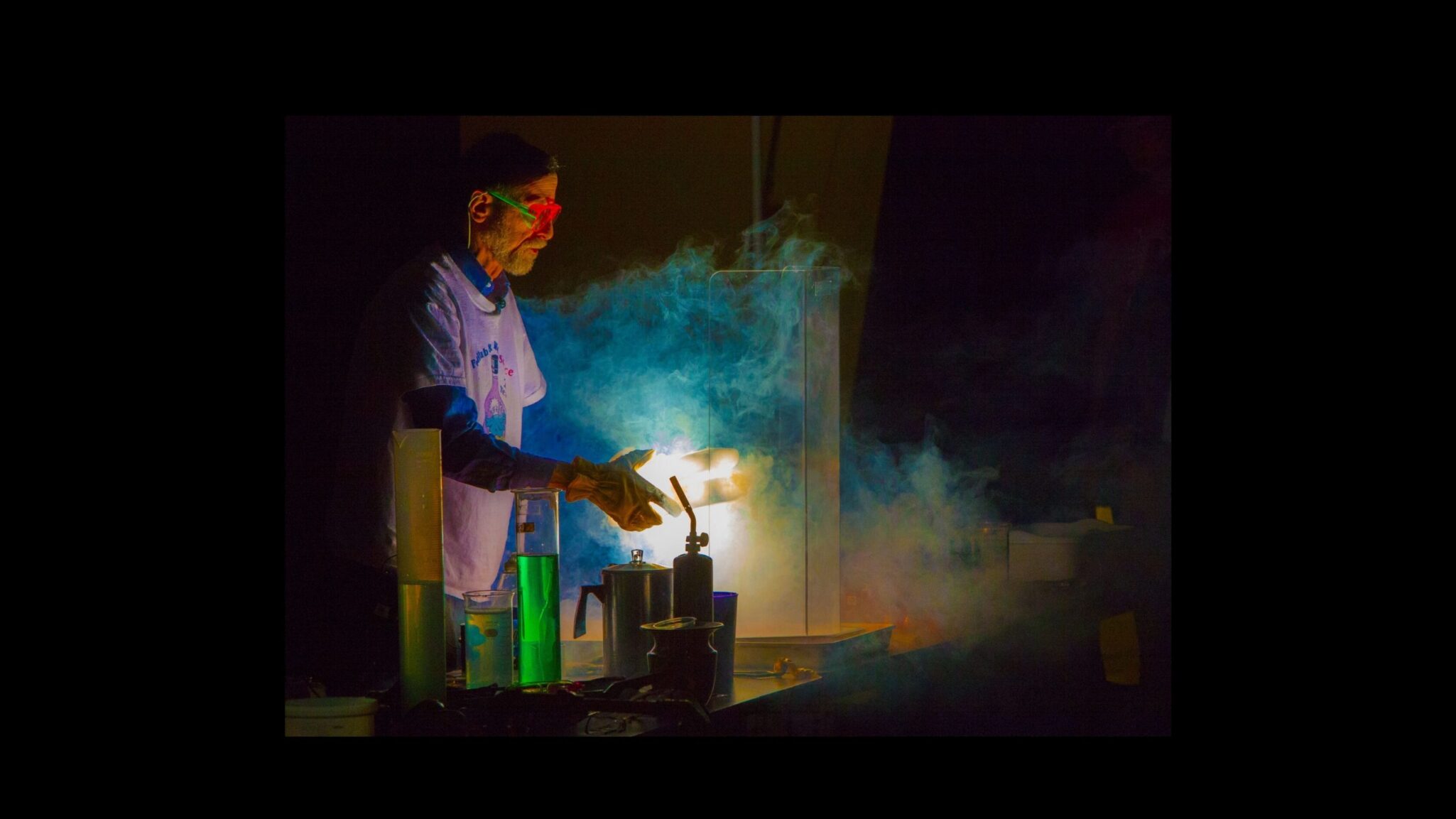 He's been mesmerizing individuals of all ages for decades, easily and knowledgeably dropping words like chromatography and cis-trans isomeris. Last month, Lee Marek, a celebrity chemist and beloved local science teacher, enthralled his fellow residents at Monarch Landing senior living community in Naperville as he shared the many highlights of his amazing career. Over the course of 40 years, Marek has entertained, educated, and inspired millions of Americans about the wonders of chemistry.
After working in chemical engineering directly after college, Marek decided to change course, instead pursuing a career in teaching. He was a chemistry teacher at Naperville North for thirty years and also during that same time, at College of DuPage. He ran a history of science program in Europe for 13 summers. After retiring, Marek taught at the University of Illinois in Chicago (UIC) for 12 years and helped develop educational programs at Fermilab.
Early during his teaching years, Marek and other science educators formed the ChemWest Alliance. The group developed Weird Science, short, easy, and often eccentric demonstrations and ideas to help teachers interest and engage their students. The program is still in existence, and Marek continues to attend meetings either in-person or virtually.
During the 90s, late-night television host David Letterman learned of the Weird Science initiative. Marek became a popular guest on the show for the next ten years. In addition to showcasing entertaining experiments for the audience of the David Letterman Show more than a dozen times, he also created the Kid Scientist feature, bringing middle and high school students to perform on 24 additional episodes for another 15 years.
Marek also shared his scientific entertainment on The Bozo Show, WTTW Chicago Tomorrow, The Late Late Show with Craig Kilborn, Fox, NBC, CBS News shows, and many other platforms.
Through the years, Marek was abundantly recognized and honored for his commitment to teaching and advancing science. His awards include the Presidential Award for Excellence in Mathematics and Science Teaching, Golden Apple Award, Those Who Excel Award Illinois, Tandy Technology Scholar Award for Outstanding Teachers, Governor's Master Teacher Award, Association of Science and Technology Centers Honor Roll of Teachers Award, and many more
With all of his public awards, achievements and appearances, Marek takes the most pride in the students whose lives he positively impacted over his career. The ones he knows include former students who attended Naperville North and are now chemistry teachers across the country. One is a department head at Naperville Central. The ones he does not know include the millions who saw his shows and performances or were captivated by ideas generated by ChemWest Alliance and became interested in science. His reach, through the years, is inestimable.
"We are so fortunate that so many Monarch Landing residents have fascinating backgrounds, interests, and talents. We were excited that Lee Marek was willing to share his great life story, including his incredible teaching background and enjoyable television performances!" said Margaret Dalke, life enrichment manager. "Many of the best programs here at Monarch Landing are when we can get to know more about one another and share our stories and expertise for all to enjoy!