The Ultimate Downsizing Checklist for Seniors
August 18, 2023
The idea of downsizing sounds very attractive to many people … until it's actually time to downsize. When you step back and take a look at all the stuff you'll have to sort through, get rid of and pack, it can be overwhelming. That's especially true if you're a senior who has started thinking about moving into a senior living community. Going through a house filled with a lifetime full of stuff seems like a never-ending task.
Don't panic – senior downsizing doesn't have to be torturous, and it doesn't have to be done all at once. In fact, it can be an exciting process as you declutter and rightsize your life to get ready for this new chapter.
We've put together an ultimate checklist for seniors who are thinking about downsizing to a senior living community like Monarch Landing. We suggest that our future residents take at least three months to work through all the items on this checklist. That way, you'll avoid undue stress and be able to make thoughtful decisions in a timely manner.
1. Understand your living options.
Before you break out the moving boxes, you'll want to figure out what type of lifestyle you want and where you'd like to spend your senior years. As you begin your research, you'll run across the terms "Life Plan Community" and "Continuing Care Retirement Community (CCRC)." Both of these options refer to a senior living community that offers a range of health services and levels of care to help you age in place. However, the costs (as well as the services) can differ greatly between communities.
Monarch Landing is a Type C, fee-for-service, senior living community, which allows residents to pay a lower admission payment and monthly fee than they would at comparable Type A and B Life Plan Communities. We do this so our residents aren't pre-paying for care they may never need. This gives our residents more flexibility and freedom with their finances.
2. Choose a floor plan.
You've done your research and selected a senior living community that's perfect for you. Congratulations! But hold on to those moving boxes because the next step is to choose the perfect floor plan for your new home. Monarch Landing has a wide variety of independent living apartments with one- or two-bedroom floor plans that can be customized to your taste with high-end furnishings. Some of our most popular floor plans include The Jackson, The Georgian, The Hawkins, and The Hastings.
3. Choose the items you can't live without.
We all have special items that have sentimental value, and you'll want to make sure those important items go with you to your new home. Go through all the rooms in your house and make a list of everything you must have in your new place, whether that's your favorite recliner or a painting that's been in your family for years.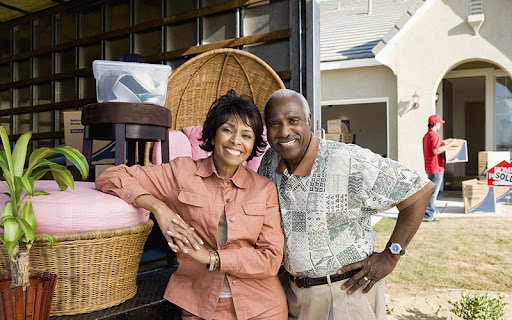 4. Digitize your memories.
Photo books and cherished letters are things you'll want to keep, but they can take up a lot of physical space. These days, it's easier than ever to scan or upload your memories so they can be stored forever. Instead of putting them on a flash drive or keeping them solely as files on your computer, consider using cloud storage so they can easily be accessed by anyone you'd like to share them with. You can also purchase a digital photo frame, which allows you to view your favorite photos and keep them on display.
5. Keep, Donate, or Throw Away.
This is where the rubber meets the road. Go through every room in your house and put all your items into one of three piles: Keep, Donate, or Throw Away. No "maybe" piles allowed! Listen to your gut and go with your instincts. Start with a small space like your linen closet or guest bathroom to get started. That small success will set you up to tackle larger rooms with more meaning, like the kitchen or your bedroom. Anything you don't want to keep can be offered to friends and family, or you can hold a garage sale to get rid of everything and pick up a little bit of cash, too.
6. Schedule moving company services.
Moving day will be here before you know it, so make sure everything is scheduled and buttoned up with the moving company. Research your options, and, if available, choose a company that specializes in moving seniors to smaller homes or senior living communities. At Monarch Landing, we have great partnerships with Honoring Aging and Downsizing by Design. You may choose to have the moving company pack your belongings for you, or you can have them just load larger items along with boxes you've packed. Be sure to ask about coverage for lost or damaged possessions.
7. Gather your paperwork.
You'll want to make sure that all your important information is in one primary location so you and your loved ones can access it quickly and easily. Consider scanning important documents and also having a hard copy in a fire-proof box. Here's a short list of items you should have on hand:
❑ Names and contact information for doctors, insurance agents, attorneys, financial planners, etc.
❑ Information about your personal assets, including savings, retirement plans, stocks, titles to your vehicles, etc.
❑ A list of any personal liabilities
❑ Federal and state income tax returns from the past five years
❑ Account numbers and login information for bank accounts and credit cards
❑ Social Security and Medicare cards
❑ Birth certificate and passport
❑ Trusts, wills, durable power of attorney, and any advance directives for your end-of-life desires
8. Connect with the senior living community to coordinate move-in.
Your senior living community of choice will be happy and willing to work with you and make sure that your move-in day goes smoothly. They can help coordinate everything with the movers and even help you find assistance when it comes to unpacking and setting up your new home.
Find the Perfect Lifestyle for Your New Life Chapter at Monarch Landing
With top-tier services and amenities, delicious dining, exceptional activities, and a maintenance-free, carefree lifestyle with the piece of mind that comes from our Type C contract, Monarch Landing is the perfect place to launch this new chapter of your life. Give us a call at 630-300-1300 to learn more about our beautiful residences and how we can help with your move to senior living.