Successful Rehab Experience at The Springs Healthcare and Rehabilitation Center at Monarch Landing
August 13, 2020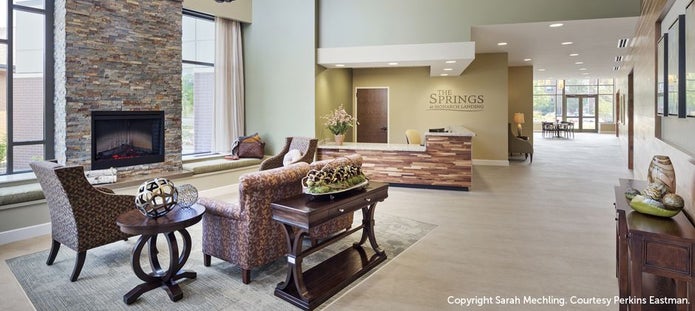 She proved them wrong in a very dramatic way. When Carole Kerr was in a serious car accident just over a year ago, her children were told that she wasn't expected to survive. "I proved them wrong," said Carole. With a great deal of work and perseverance and excellent rehabilitation therapy, Carole regained her independence and is enjoying her new home at Monarch Landing senior living community in Naperville.
Carole, who doesn't remember anything about the accident, was first treated at a hospital in Rockford and then discharged to the Shirley Ryan Ability Lab for several weeks. From there, she transferred to a local rehabilitation center, but she didn't receive the attention and care that she needed. "I wanted a better chance than they were providing to regain as much independence as possible," Carole said. She knew people who had successful rehab experiences at The Springs Healthcare and Rehabilitation Center at Monarch Landing. With the ultimate goal of being able to move to independent living at Monarch Landing, Carole worked hard with the talented and dedicated rehab staff. "I'd been in rehabilitation facilities that were not what I wanted. When I got to The Springs, I knew right away that I was at the right place for me," she said. "Rehab was excellent. The staff knew what they were doing, and they provided what I needed. My goal was to make as much progress as possible and get back to the way I was before my accident. I took great steps in achieving my goals."
In November of 2019, Carole had recovered enough of her independence to be able to move to a lovely apartment at Monarch Landing. "I've given up driving, I sometimes have dizziness, and my hand doesn't work well. But I'm very close to the way I was pre-accident and living here makes up for the things I'm not able to do. I have access to everything I need right here. I didn't have an appetite after the accident, so if I didn't have meals prepared as I do here, I probably wouldn't be eating. There's transportation available wherever I need to go, there's a medical center if I want to use it, and there's a spa so I can get my hair done, exercise classes, a pool… everything I need is right here on-site."
Carole has rave reviews for the staff. "They are tremendous. I have felt so welcome and feel very much at home here. Everything the staff does is with the interest of the residents in mind," she said. While residents were staying within their apartments during the shelter in place mandate, Carole admitted that she felt a little lonesome, but very safe and well-cared for. "The staff was extremely supportive," she said, adding that programs and entertainment were provided over the in-house television station.
Carole recalled a simple interaction that affirmed that she'd made the right decision to move to Monarch Landing. "I love the staff. They remembered my name right away. After I'd been here a day or two, someone at the front desk told me she liked the sweater I'd worn the day before. I was so pleased that she remembered me, remembered what I wore, and reached out to me. I felt so at home. At a rehabilitation center I was at previously, they didn't get attached to the residents. I feel welcome and happy here."