The Best Sports for Seniors
April 5, 2023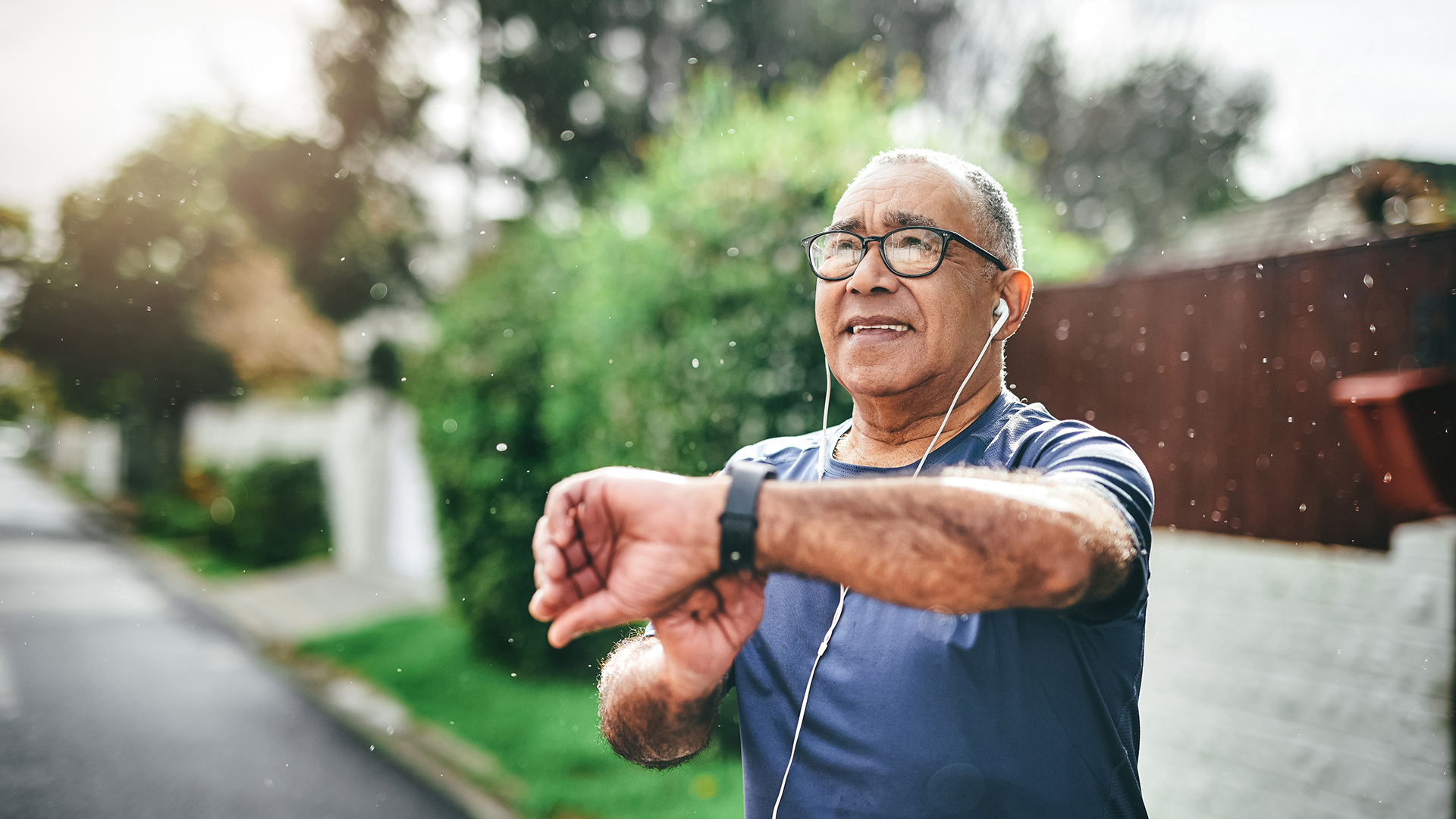 We don't often associate the word "sports" with "seniors." But if you're an older adult, aging doesn't mean you have to retire your cleats or hang up your hat. There are a variety of sports that are fantastic for seniors, whether you're a seasoned pro or a complete newbie. 
According to the Centers for Disease Control and Prevention (CDC), multipoint physical activity (specifically like you find in sports) provides an array of benefits to an aging population, including increased flexibility and mobility, better physical health, better emotional health, and heightened mental acuity and socialization.
So even if you're not as spry as you used to be, there are plenty of opportunities for older adults to get out, break a sweat, and improve their overall health by playing sports. The best sports for seniors are ones that can be tailored to your individual abilities, are low impact, and also have a strong social element. We've put together a list of the top sports for older adults to give you an idea of what's out there and hopefully inspire you to pick up a new activity or two. 
1. Swimming
Swimming is one of the most popular and most beneficial sports for older people. Thanks to the natural buoyancy and resistance of water, it's a low-impact sport that allows you to exercise all your muscle groups. Most senior communities, including Monarch Landing, offer an on-site heated pool as a fitness benefit.
Seniors with mobility issues can safely exercise without worrying about falls, and individuals with arthritis or other musculoskeletal issues can work their joints easily and without pain. Swimming helps maintain muscle mass, improves flexibility, helps maintain balance, and can provide moderate aerobic activity – in short, it's an all-star sport for seniors.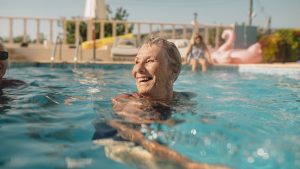 2. Walking
Next up on the "top sports for seniors" is something that's easy to do and requires zero special equipment or tools – walking! Going for a walk is an easy way to stay active, an excellent way to build bone health, improve your cardiovascular health, maintain balance, and stay healthy overall. It's no wonder why our walking group at Monarch Landing is one of our most popular and active groups on our 60 acre campus! To level up your walking game, consider adding nordic walking or race walking to your routine to boost aerobic activity. 
3. Croquet
As the Red Queen asks, "Do you play croquet?" If you don't, you're missing out on an excellent sport that gets you outdoors, is a fun way to socialize, and is also a good exercise. Croquet can improve hand-eye coordination, flexibility, and a slight amount of balance. While it's not a hugely intense workout, it does require problem-solving, making it a good way to keep your little gray cells working while also doing some physical activity. 
4.
Tai Chi
Tai chi combines slow, gentle movement with a meditative focus, making it a great low-impact sporting activity. The intentional movements don't require you to "push" yourself, so it's an excellent option for improving flexibility, muscle strength and balance without overly stressing your body. Tai chi can be done outside or inside, alone or in a group, requires no fancy equipment, and is an excellent activity for reducing heart disease. 
5. Yoga
Like Tai chi, yoga is a practice that combines physical, emotional and mental wellness. Yoga has become incredibly popular for all age groups due to its versatility – it can range from meditative and gentle to a rigorous, physically intense practice. When done multiple times a week, yoga improves your core strength, improves balance (helping reduce the risk of falling), reduces stress, and helps you maintain a healthy mental state. Yoga for seniors has become a popular activity at Monarch Landing, and there's always room for one more!
6. Pickleball
Traditional net-and-ball games like tennis or badminton can sometimes be too fast-paced for older adults. Pickleball combines the elements of tennis, pingpong and badminton for a fun sport that's an all-ages team sport. It's played on a slightly smaller court than tennis, meaning you will still work up a sweat without the risk of injury. Check in your community for pickleball courts – pickleball has become hugely popular in the past few years. 
7. Dancing
Dancing provides a great full-body workout that's also a fun social activity. Besides improving your heart health by boosting your heart rate, it boosts energy levels, improves mood, helps maintain balance, and can be a great source of laughter (which, as we all know, is the best form of medicine). At Monarch Landing, our line dancing classes are lively events and a great activity for residents of all ages and abilities. 
8.
Lawn bowls
Lawn bowls (or lawn bowling) are a fantastic combination of competition, exercise and social enjoyment. This sport helps boost balance, increases muscle strength, and adds a good jolt of cardiovascular activity to your day. 
9. Golf
Playing golf provides a wide variety of benefits: improving range of motion, boosting blood circulation, maintaining balance, and (of course) providing great socialization opportunities. It's not the most high-impact sport out there, but with all the walking (especially if you forgo a golf cart), you'll be surprised at how much energy you actually expend. 
10. Walking Soccer
Walking soccer is a great exercise that combines the social and physical benefits of soccer without the running. It's played just like regular soccer without any headbutts, overly fancy footwork, or diving for the ball – making it perfect for active seniors who thrive on competition.
Stay active
and engaged at Monarch Landing
Our 60-acre campus provides so many opportunities for our residents to stay physically fit, whether indoors or outdoors. We offer a wide variety of activities and events with many fitness classes focused on whole-person wellness. Whether you're enjoying an afternoon at our dog park, heading out for a ride with our biking group, taking a lap in our indoor pool, or learning how to line dance, you'll find everything you need to live an active lifestyle.
Give us a call at 630-354-8251 to learn more about our active lifestyle and beautiful campus.