Monarch Landing Senior Living in Naperville Celebrates Its Residents and Its 17th Anniversary
August 7, 2023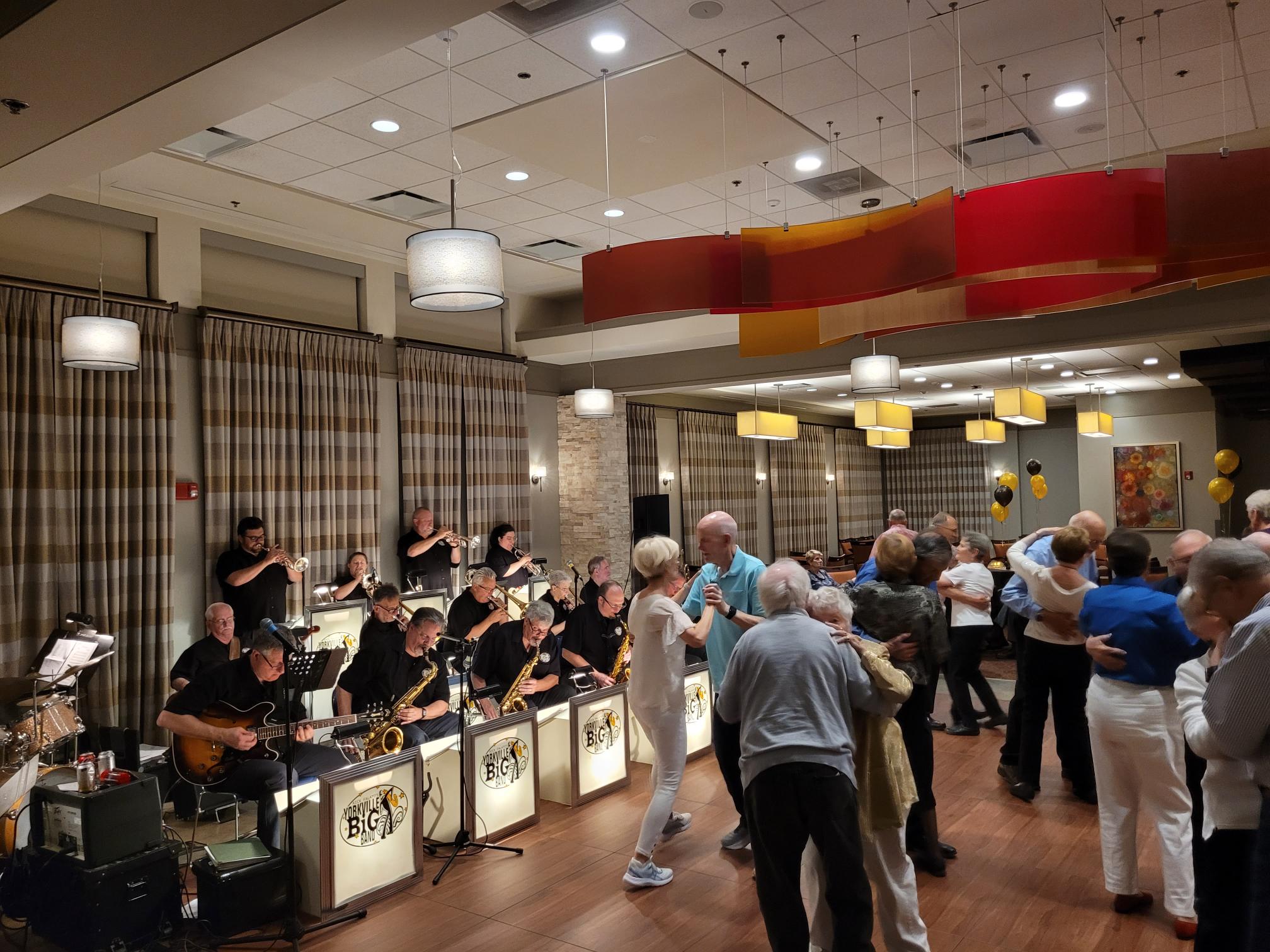 All kinds of 'official' days, weeks and months of appreciation are observed across the country. Healthcare workers, teachers, first responders, and mail carriers…all have celebratory times designated to their appreciation…all are well deserved. "We decided last year that we were going to launch our own appreciation week," said Margaret Scanlon-Dalke, life enrichment manager at Monarch Landing senior living community in Naperville. "We feel like it's important to acknowledge and appreciate our residents. They do so much for our community, taking an active role in what we do here. They are the inspiration for and sometimes the leaders of our programs, welcome and mentor new residents, and make Monarch Landing special. We appreciate them and decided to make it official."
Last week was the second annual Residents Appreciation Week at Monarch Landing. The event 'kicked' off on Sunday, July 23rd, with a performance by the Yorkville Big Band. Residents were given dance lessons at the beginning of the program and then danced the night away afterward. On Monday, the 24th, an open house of the senior living community provided residents with an inside peek of some special, shared spaces, including Monarch Landing's Treasure Chest resale shop, wood and hobby shop, model train room, library, MLTV in-house television room, and more. In the evening, residents watched a movie outdoors under the stars. Top Gun Maverick was shown on a giant screen. On Tuesday, the 25th, two volleyball competitions pitted the staff against the residents, first on the ground and then in the pool. That evening, the Naperville fire chief visited with the residents. Wednesday, the 26th, featured Monarch Landing's 17th anniversary dinner, Passport Around the World, boasting cocktails and cuisines from different countries worldwide. Thursday, the 27th, magician William Pack presented The Essential Houdini, sharing true stories about the master of magic. On Friday, the 28th, Monarch Landing hosted a classic car show. On Saturday, July 29th, PAWsitive Therapy Dog Troupe presented their pooch parade.
"It was a fun week and a great celebration of our residents and our community," said Scanlon-Dalke.
MONARCH LANDING
Monarch Landing is a Life Plan Community located on a scenic campus in Naperville, Illinois-named "one of America's best places to live and retire" by Modern Maturity and "the best city for early retirement" by Kiplinger. Monarch Landing offers independent living, promoting a vibrant lifestyle for active seniors.  The Springs at Monarch Landing offers memory-supported assisted living, respite care, rehabilitation, and skilled nursing services, thus providing complete continuing care for seniors. Monarch Landing is owned by Senior Care Development and managed by Life Care Services®. For additional information, visit www.WelcomeToMonarchLanding.com or www.TheSpringsatMonarchLanding.com.