Music — The Universal Language of Mankind
August 19, 2021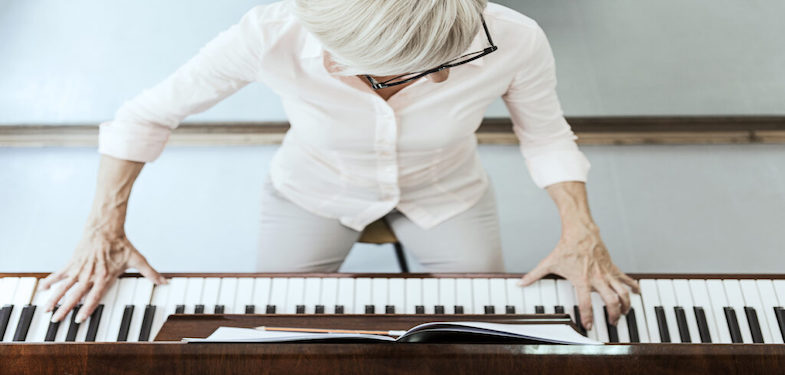 Famed nineteenth century poet Henry Wadsworth Longfellow once noted that "music is the universal language of mankind," and throughout the high and low notes of human history, this has certainly held true.
Most recently, music has provided creative ways for people to stay connected with friends and loved ones during the pandemic, whether it is by sharing Spotify playlists, "attending" a virtual – or in-person! – concert together, or enjoying an impromptu singalong. One couple even rediscovered the lost art of the mix tape as they were stranded on opposite ends of the country. 
Regardless of tempo, tune or style, music speaks to something deep within our humanity – evoking strong emotions, inspiring a sense of awe, and transcending language to offer unique opportunities for cross-cultural connections. A recent study showed that people in 60 countries around the world could correctly identify whether a song was a lullaby, dancing song or healing song after hearing just a short snippet. 
Music can also foster our creativity and imagination, boosting our brain power in pursuit of seemingly unrelated endeavors. Albert Einstein noted that his brilliant scientific insights stemmed in large part from his enjoyment of music – including playing the violin and piano – and he said that if he was not a physicist, he would most likely be a musician. "I often think in music. I live my daydreams in music. I see my life in terms of music," he said. 
Music is also a wonderful way to keep the brain young. Listening to music can improve sleep quality and memory, reduce anxiety and blood pressure, even assist with pain management and boost the immune system – an especially important consideration these days. Listening to music has been shown to reduce anxiety and stress in Alzheimer's patients, improve cognitive function in babies born prematurely, even increase surgeons' accuracy and speed during procedures – and aid the recovery of patients who listened to it while under anesthesia.
While humans have long been aware of the physical and mental benefits of music, the profession of music therapy as it is known today got its start after WWI and WWII, when amateur and professional musicians would play at veterans' hospitals to help ease soldiers' physical and emotional suffering. This proved so effective that hospitals sought to hire staff musicians, and a college-level music therapy curriculum was developed to ensure they were properly trained. Today there are more than 5,000 music therapists in the U.S. working in a wide variety of settings including hospitals, outpatient clinics, daycare centers, mental health centers and nursing homes.
So, how best to maximize the noteworthy positive impacts of music? Experts recommend listening to familiar tunes to aid with recall of favorite memories, as well as tuning in to new styles and songs to challenge the brain. You may want to ask a child or grandchild for some recommendations to add to your playlist! Other wonderful ways to enjoy music's numerous benefits include listening to songs that help achieve a desired outcome, such as boosting energy levels, focusing, or relaxing; creating your own soundtrack by playing songs that set a mood, such as peaceful music at bedtime or upbeat music during a walk (bonus – high-energy music can increase endurance!); checking out live performances, such as Naper Settlement's Naper Nights Concert Series or a concert at North Central College's Wentz Concert Hall near downtown Naperville; or playing an instrument or singing, particularly with others. Research has shown that participating in a group musical activity, such as choral singing, eases stress, improves mood, and boosts cognitive function. 
Residents of Monarch Landing, conveniently located near downtown Naperville, have numerous opportunities to make – and enjoy – beautiful music together. The vibrant senior living community's action-packed activities and events calendar includes drumming classes, singalongs, an in-house choir, and field trips to hear live performances, such as Petra Van Nuis Trio, and John Boda. The senior living community's summer concert series, Music on the Green include DuPage Symphony Orchestra, Zazz, and more.
With so much power to boost health and wellness, why not follow Einstein's cue and embrace music? Whether your tastes lean more towards the precise tones of Bach, the groovy tunes of the Beatles or the big-band stylings of Basie, you're bound to experience notable positive effects.
Live entertainment including Petra Van Nuis Trio, John Boda: Music of My Fair Lady, Sunday Night Hymm Sing, Sandi Haynes and Blue Rocket Boys, MOTG: DuPage Symphony Orchestra, MOTG: Zazz