How To Cope With Spouse Caregiver Burnout
May 4, 2023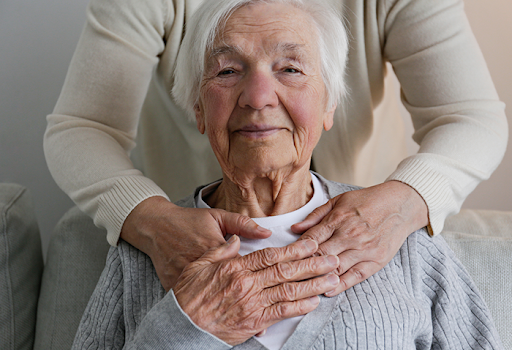 When your spouse falls ill or needs help, it's natural to jump right in and do as much as you can. After all, that's what marriage is about, right? But when taking care of your spouse ends up becoming harder and harder with no end in sight, you might feel yourself becoming anxious, depressed, exhausted, angry – in short, you run the risk of developing caregiver burnout.
What is caregiver burnout?
Caregiver burnout is when a person becomes physically, mentally and emotionally exhausted due to being a caregiver for a loved one. It's caused by being in a state of long-term stress without adequate relief – and caring for an ailing spouse is certainly a source of stress. It's a very common symptom, with 40% of caregivers expressing emotional stress, 20% reporting financial stress, and 20% experiencing physical stress.
Emotional impacts of caregiver burnout
Caregiver stress can creep up on a person, so it's important to pay attention to how you're feeling and how you're acting. If you find yourself experiencing these symptoms, you may well be on your way to burnout:
Feeling

resentful toward your spouse

Guilt that you aren't doing enough

Emotional and physical

exhaustion

Sleeping too much, or not sleeping enough

Becoming angry over little things

Withdrawing from

family members or friends

Feeling like you don't have any

free time

A change in attitude from feeling loving to feeling negative and unconcerned

Withdrawing from

friends and family

Becoming ill more often
Left unchecked, burnout can cause serious problems for both the caregiver and the spouse they're caring for. It's important for adult children and other loved ones to know the signs of caregiver burnout so they can step in if they sense the caregiver needs help. 
Physical challenges of
spousal caregiving
The physical responsibilities of caregiving can be incredibly taxing for spousal caregivers. It can be challenging to physically move another person around if mobility assistance is needed, which can lead to injury for either or both parties. 
The caregiving spouse is usually a senior as well, perhaps with health issues of their own, making it difficult to adequately manage care for their loved one. The caregiver may also neglect their own personal health issues, which results in a vicious cycle. Before things head down this path, there are ways to get help. 
How to get help
Many caregivers feel like they're completely alone. Not so! There are many ways that spousal caregivers can seek out assistance to provide them with some much needed help, rest and support. 
Ask for help from

friends and family

. Connect with people and ask for a specific task or favor – it's easier to say yes to something direct. At the same time, accept help when people offer. Consider putting together a list of tasks that you can give to others when they ask how they can help.

Join a

support group

. Whether in person or virtual,

support group

s are a wonderful place to connect with others who are going through the same thing as you. You'll also find excellent advice from people who've been there, as well as uncover resources you might not have known about.

Consider moving into a senior living community that provides supportive services, such as Monarch Landing. Our goal is always to keep spouses together and help them reconnect to their marriage in new and different ways. Since Monarch Landing is a

Type C Fee-for-Service Life Plan Community

, you only pay for services when you need them, if you need them. This makes us a smart option for spouses with varying care needs, whether they need skilled nursing or memory care.
Another support system that Monarch Landing provides for residents is Daybreak, a social day program for independent living residents who suffer from cognitive decline. This program, which promotes overall well-being and successful aging, can be an asset to couples living in the community, where one is the primary caregiver for the other spouse. Daybreak provides a home-like environment with programming from baking and cooking to individual and small group activities to on-site exercise classes and more. Daybreak places emphasis on maintaining independence, quality relationships, increased self-esteem & confidence, re-engagement in community activities, and resilience.  
Find the support you need with
respite care
at The Springs
We understand that while your spouse needs caregiving, you need to take care of yourself as well. Our respite services are designed to provide your spouse with professional, quality care in an environment tailored to their physical, emotional and mental needs. Short-term stays are available at our community for up to 30 days. 
Contact us today to learn more about respite care as well as the lifestyle at our vibrant Life Plan Community.