9 Things To Do This Fall in Naperville, IL
September 14, 2023
Whether you're an established local or visiting for the first time, Naperville, Illinois, is a great place to visit any time of the year … especially during the fall season. Naperville is a suburb of Chicago, located about 30 miles from the Windy City's downtown, and is one of the prettiest and safest cities in the United States. It boasts the best public library system in the nation, is home to nationally recognized school systems, and is hailed as one of the best places to live – and retire.
Our residents love enjoying the turning of the seasons at our Life Plan Community. Since we're located near downtown Naperville, they have easy access to everything the city offers, from seasonal activities to yearly events. Here are some of our residents' favorite activities to celebrate the fun of the fall season.
1. Celebrate the end of summer and kick off fall fun.
Say goodbye to sweltering summer and say hello to fall at the Last Fling, a four-day family-friendly festival held every year in Downtown Naperville. It offers a wide variety of attractions and entertainment, including live music, a carnival, food and beverages, a business expo, and, of course, a Labor Day parade. It's always free to attend and is a can't-miss event of the season. This year's event takes place from September 1–4, so make your plans now!
2. Enjoy the luck (and the food, and the culture) of the Irish.
Erin go bragh! Grab your green and follow the rainbow to the annual Naperville Irish Fest on September 22 and 23 in downtown Naperville. Sponsored by the West Suburban Irish organization, this year's event is packed with live music, Irish cultural events, a hurling and football demonstration, whiskey tasting, and the Leprechaun Landing for wee little ones.
3. Discover Naperville's art scene.
Every third weekend in September, the Riverwalk Fine Art Fair draws thousands of visitors to the Riverwalk to enjoy this juried fine arts and crafts fair named one of the best in the country. This year's event takes place September 16 and 17 and will house works from more than 100 artists from across the nation.
4. Enjoy the explosion of fall colors.
Leaf peeping isn't just for the Northeast – the Midwest is also filled with burning reds, rich oranges, deep browns, and brilliant yellows, especially in the Chicagoland area. The Morton Arboretum (founded by the heiress of the Morton Salt empire) is an absolute must-visit, with 1,700 rolling acres and thousands of trees. Other area autumnal highlights include Knoch Knolls Park and Nature Center, the Naperville Riverwalk, the Springbrook Prairie Preserve, and the serene Whalon Lake Preserve. Finally, the 60-acre campus of our own Monarch Landing is filled with walking trails and picturesque landscapes from which to view fall's glory.
5. Have fun on the farm.
What fall tradition is more beloved than visiting a pumpkin patch? The Naperville area abounds with orchards and family-friendly farms that offer a seasonal spectacle with pumpkin patches, corn mazes, pig races, haunted forests, and all sorts of delicious fall treats and goodies. Kuipers Family Farm has been an area favorite since 1998 and draws crowds all season (and all year) long. Abbey Farms is considered by many as one of the "hidden pumpkin patch gems" near Naperville, and their Pumpkin Daze is a much-anticipated event for young and old alike. Other area standouts include Sonny Acres, Johansen Farms, Dollanger Family Farm, and Puckerville Farms.
6. Savor the flavors of fall.
Pumpkin pie, homemade preserves, apple butter, stuffed squash, cozy casseroles –what's not to love about the harvest season when it comes to your tastebuds? All the farms listed above in the "fun on the farm" section have lovely little country markets on-site where you can gather made-with-love foodstuffs while also picking your pumpkins. But you don't have to head out to the farm to bring the season's eating to your table. You won't want to miss the Naperville Farmers Market, the 95th Street Farmers Market, and Mayneland Farm.
7. Relax at the Riverwalk.
The Naperville Riverwalk, founded in 1981 to commemorate the city's sesquicentennial, contains nearly two miles of fountains, covered bridges, gorgeous landscaping, and more. It's an excellent place to spend the afternoon enjoying the fall weather. Climb the 253 steps of the Moser Tower to view the spectacular Millennium Carillon and see the Chicago skyline if the weather's clear. Enjoy a picnic at the pavilion, admire the art pieces of the Century Walk, or rent a paddle boat for a lazy stroll down the river. Afterward, it's just a short walk to downtown Naperville and local restaurants.
8. Raise a glass at Oktoberfest.
Naper Settlement is a year-round attraction with a museum, ever-changing exhibits, living history, escape rooms, and more. It also hosts special events and concerts throughout that year that are beloved by locals and visitors alike. The first event of the fall season is a traditional Oktoberfest, open to all ages. Guests gather under a large, heated tent to enjoy delicious German cuisine, fun lawn games, and a stein-holding contest, live Oompa and rock music, and, of course, traditional Oktoberfest beer varieties (for guests 21 and older). This year's event takes place on Saturday and Sunday, October 6 & 7.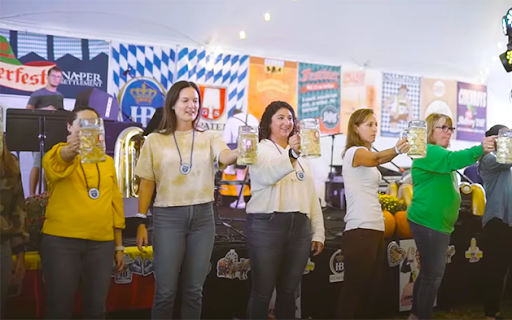 9. Get all spooked up.
Calling all ghouls and goblins! Naperville is filled with spooky scares and fun frights for all ages. On October 20 and 21, summon up some magic, chills, and thrills at Naper Settlement at the annual All Hallows Eve (recommended for families with children ages 16 and older). You'll enjoy 13 acres of horror and a line-up of Halloween-themed art, performances and activities that are to die for. Thrill-seekers age 21 and older are invited to Howlin' at The Moon on October 27, also at Naper Settlement. For a more family-friendly celebration, head to downtown Naperville October 29 for the Halloween Happening, a free event for kids 10 and under filled with activities, trick-or-treating, and games for all.
Find enjoyment no matter the season at Monarch Landing.
Whether spring, summer, fall, or winter, Monarch Landing is the destination for seniors seeking a vibrant, active, and purposeful lifestyle. Our 60-acre campus located near downtown Naperville offers independent living with a fun twist and the peace of mind that only a Life Plan Community can provide. Contact us today at 630-300-1300 for a personal tour of our fun, engaging, and enjoyable senior living community.