Fashion and Benevolence Go Hand in Hand
September 9, 2020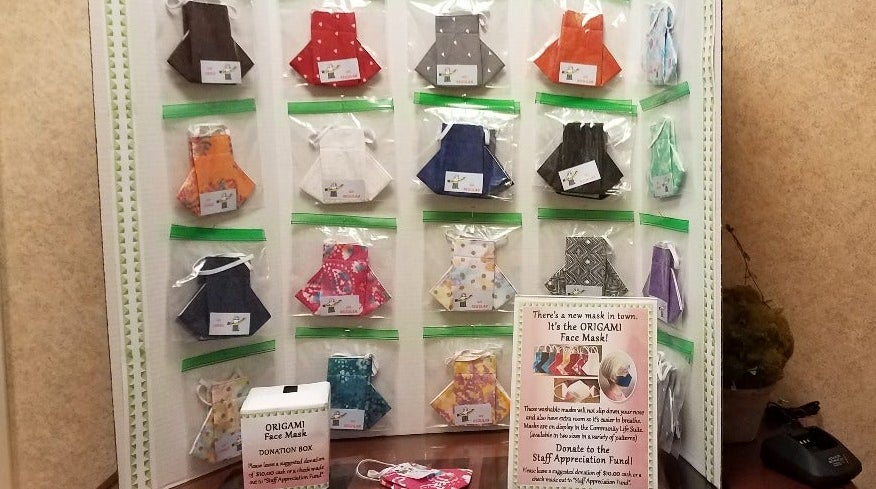 Fashion sense and benevolence are not mutually exclusive, as proven by Pati Saulig. The resident of Monarch Landing has created effective, comfortable, fashionable masks for her friends and fellow residents at the senior living community. They are available for a suggested donation of $10 to Monarch Landing's staff appreciation fund.
The resident-run staff appreciation fund was established in 2006 to show the hourly staff gratitude and appreciation. An official fund drive takes place in November and the proceeds are distributed to qualifying staff before the holidays. Pati explained her decision to help start raising funds early. "This year in particular, we are so grateful to the staff. They've taken great care of the residents during a really difficult time and have shown us unfailing dedication and kindness."
Pati and her husband Rick moved to Monarch Landing in May of 2019. She quickly became very involved in activities and on resident committees at Monarch Landing. When the COVID-19 quarantine went into effect, Pati found herself with free time on her hands. Because of mask shortages at the time, Pati and other residents offered to sew masks for staff and fellow-residents to help keep them healthy.
"I started sewing in high school and made a lot of my own clothes. Through the years as my work became more intensive, I had less and less time to sew so I really only did repairs. When we first moved here to Monarch Landing I wasn't sewing much at all, so I gifted my sewing machine and cabinet to my niece," she recalled. "But all of a sudden, I found that I wanted to help make masks."
Pati learned that masks weren't the only items in short supply. Apparently, the pandemic spawned a creative streak nationwide, resulting in a scarcity of sewing machines available for purchase. While she waited for one she was able to order to be delivered, she borrowed a residents' 60-year old machine. "It became a little workhorse," she said. Monarch Landing provided fabric and a pattern, and the residents created masks for distribution.
Pati said that several weeks ago while dining at Monarch Landing's outdoor courtyard grille which had just reopened, a resident friend shared that she had received a link to an origami-style mask from a friend in Tennessee. "They looked unique and comfortable. I looked at the picture and was intrigued," Pati said. She downloaded a pattern and figured out how to create templates for the mask. She sewed one for the friend that introduced her to the mask and that resident wore it to dinner a few nights later. "The resident told me that It had become a topic of conversation. She said people wondered how much I would charge for making them a mask. One woman wanted one to wear to her granddaughter's wedding, and one for her husband who was officiating the wedding, to wear."
Pati, who had a long and successful career in senior living, said, "I like making masks for others but I'm not in business anymore and I don't want to make money for this. I decided that in return, I would like people to make a donation to the staff appreciation fund."
The masks became very popular and almost immediately, Pati realized she'd need more than just her own set of hands to keep the inventory replenished. She enlisted the assistance of her husband, who cuts the fabric and interfacing, and fellow-residents Kathy Schreiner and Donna Fonda who help complete the assembly. The masks are packaged and put on display in the Community Life Suite. People leave their donation in exchange for the masks of their choice.
"People comment about the masks everywhere," she said. "I am flabbergasted. Even when I had the idea to make some and put them out for people, I never thought it would be as popular as it is. People refer to them as eye-candy and say that they're addictive. I'm told they stop by often to see what new fabrics are available." Pati estimated that the masks she has made so far have generated roughly $2,500 for the staff appreciation fund.
"Everyone has done so much to keep us all safe, now more than ever. People are anxious to show their appreciation for the staff's efforts," she concluded.