Keepin' On Biking
June 14, 2019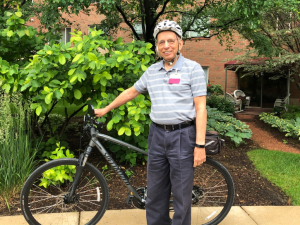 In honor of his 85th birthday, his family bought him some new wheels. Two wheels to be precise. Duane Mevis, a resident of Monarch Landing senior living community, has loved bike riding since he was a teen. Growing up on a farm in central Wisconsin, he recalled he'd ride his bike to high school. After high school, it was years before he was able to take it up again. "For me, it's really a way to center myself. It's a route to mindfulness. Runners talk about running being meditative. I can't run, but I can bike."
Mevis last received a new bike 15 years ago when he turned 70. "I still like that bike a lot, but for my 85th I received a hybrid. It's a bigger and heavier bike. I'm more concerned about balance now, and it's easier with my new bike. It's more stable."
Safety and stability are essential as Mevis puts a lot of miles on whatever bike he's riding each year. "It's not unusual for me to ride 1,000 miles in a season," he said, explaining that he keeps track with the Track My Ride app on his phone. Last year he rode up until mid-December, starting again this year in late March.
Mevis said he rides with Monarch Landing's bike club, which, weather permitting, rides twice each week. The group of 12-15 residents logs 5-10 miles together. On the days that the bike club isn't together, Mevis enjoy cycling himself, typically riding an average of 8-12 miles, sometimes more. Mevis said that Monarch Landing's ideal location near the Illinois Prairie Path affords him great choices for scenic rides. Among his favorite destinations, he said, are Blackwell Forest Preserve and Herrick Lake.
Mevis said that riding is great exercise as well as beneficial for his emotional well-being. "It keeps me grounded," he said.
Mevis and his wife Carol moved to Monarch Landing 8 years ago. He serves on the senior living community's Resident Advisory Council (RAC). Mevis is the pastor emeritus at Wesley United Methodist Church in Naperville, where he worked for more than 30 years, and still preaches occasionally.