Monarch Landing's Resident-Run Political and Community Awareness Committee
November 9, 2022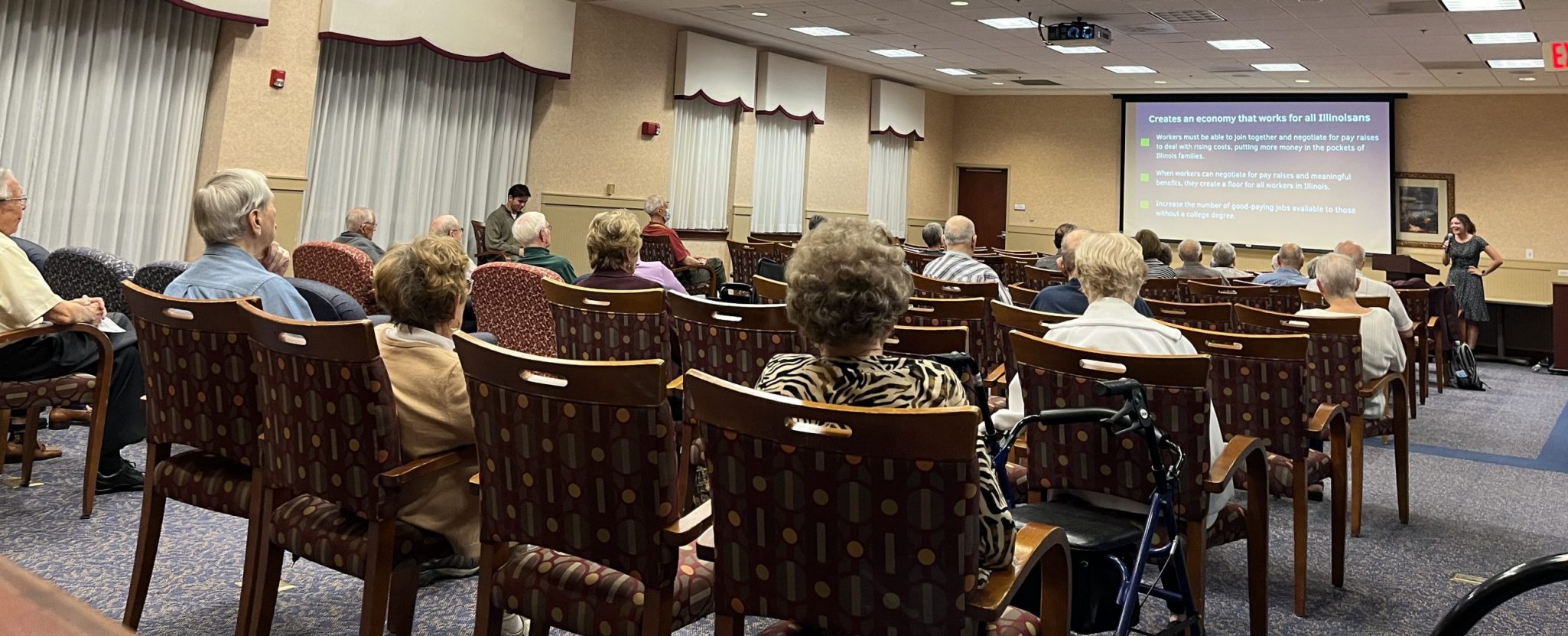 With an interest in being informed about and active in the Naperville area, the residents of Monarch Landing senior living community have reintroduced and renamed a popular group. The Political and Community Awareness (PACA) committee is a resident-run program designed to optimize accessibility for learning about politics and programming in the area around them. Mary Ann and Bob Rickert have been enthusiastic members of the group since they first moved to Monarch Landing in Naperville in 2008. "We like politics and our community," said Mary Ann.
The group was originally called the Political Action Committee but 'action' was changed to 'awareness' this year. Bob explained, "We expanded the horizons in order to generate more interest because we wanted to get more residents involved. And we wanted to make the program purely to build awareness. We bring people to share information, and then you get to make decisions yourself. We are in no way an action committee."
The political component of PACA brings candidates who are running for office to talk to the residents. Earlier this election season, their guests included gubernatorial candidate Richard Irvin, Cathy Murphy, who was the lieutenant governor candidate for Jesse Sullivan, Illinois State Senator Laura Ellman, Illinois Representative Janet Yang Rohr, and Secretary of State candidate Dan Brady. U.S. Representative Sean Casten presented a legislative update and his primary election plans. (His District changed shortly after the presentation and no longer includes Monarch Landing). Last week PACA hosted Coalitions Director, Frances Orenic who spoke about the Workers' Rights Amendment.
There is an incentive for politicians. "We have 450 residents in independent living alone, and 80 at The Springs Healthcare and Rehabilitation. The majority of our residents vote," said Bob. 'Furthermore, we help residents to register and to apply for mail-in ballots if they'd like, and we take a bus to the polling places. In the last mayoral election, we had the highest percentage of voters in our precinct. Our numbers could influence an election."
The newer community component of PACA's expanded parameters focuses on the organizations and amenities within the greater geographic area. "This helps get Monarch Landing more involved with the City of Naperville and all it has to offer," said Mary Ann.
Community speakers have included Riverwalk Commissioners Ian Holzhauer and Jan Erikson, talking about the Riverwalk's history and future. The event was followed-up when the Commissioners hosted Monarch Landing's Happy Hikers walking group for a guided tour.
The residents of Monarch Landing are responding positively to the new direction of PACA. Programs are held almost weekly and draws 50-90 attendees. Furthermore, the program is recorded and shown on in-house television to even more interested residents.
"Our residents are interested and engaged with politics, current events, and their hometown. We're pleased to have this program to help build awareness," said Bob.