Monarch Landing Residents Are Avid Participants in Adult Coloring
March 9, 2023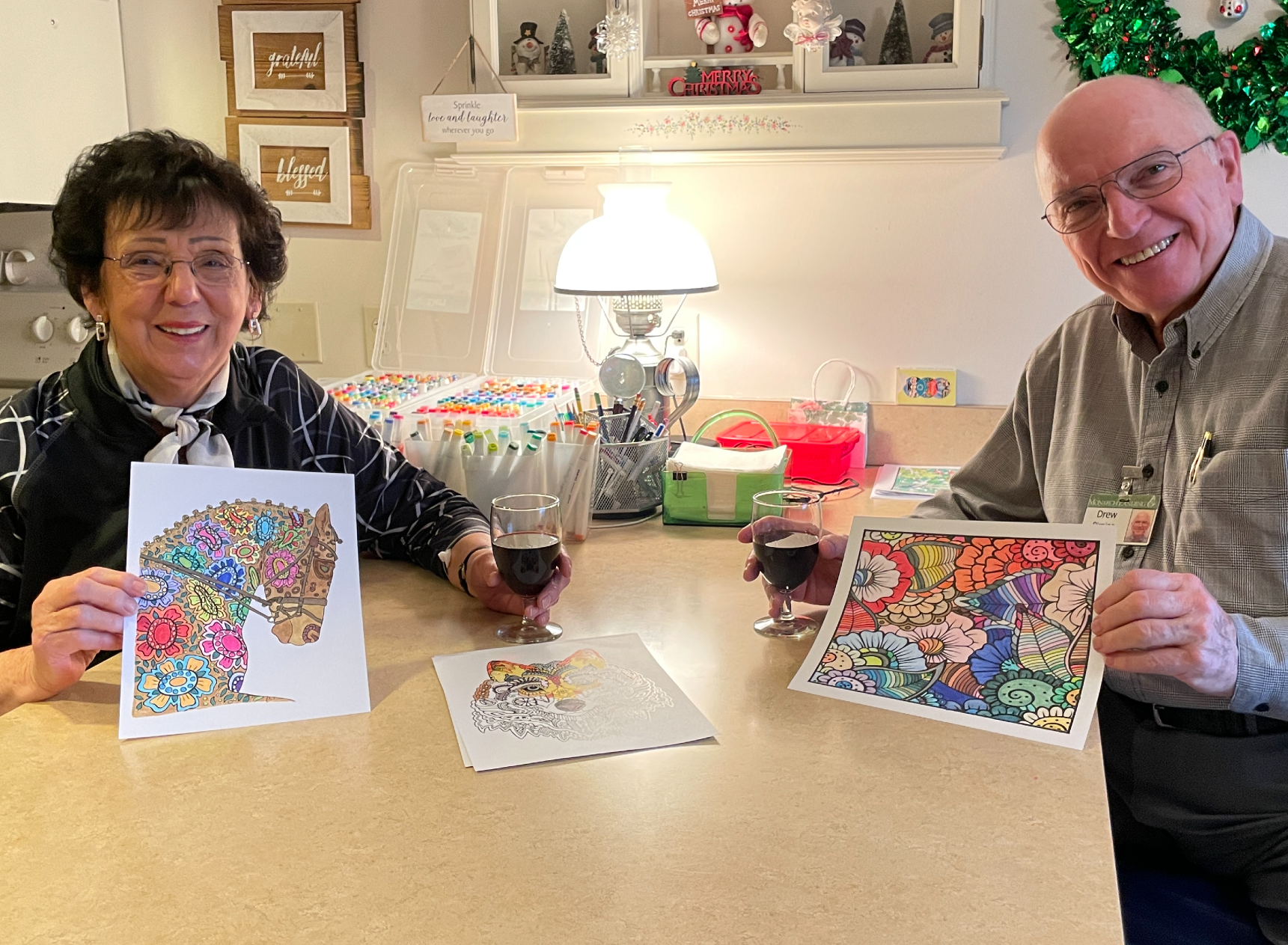 Adults have taken up coloring and are loving and benefiting from it.
Why should kids have all the fun?
Adopting what has long been a favorite childhood pastime, adults have taken up coloring and are loving and benefiting from it. With markers, pencils or crayons on either books or individual pages, adults are coloring masterpieces while exercising their creativity and releasing stress and anxiety.
Virtual influencers for this trend are Pat Dirienzo and Drew Piraino. The residents of Monarch Landing senior living community in Naperville are avid participants in adult coloring. Drew, especially, is passionate about the trend and has completed more than 500 pages of pictures to date.
Known as an 'analog hobby' or 'digital detox,' coloring breaks one's connection to their device or television. The result, according to participants, is zen-like stress release. "It's relaxing, simple, low-cost, and allows people, regardless of their artistic ability, to create," said Margaret Scanlon-Dalke, life enrichment manager. "It became especially popular and important during COVID when people were staying within the safety of their apartments." Additionally, she said, "it's shown to help relieve anxiety, stimulate the brain, improve hand-eye coordination, and help pass the time."
Drew, who explains that he is somewhat creative and used to enjoy oil painting, loves the coloring trend. Pat often spends time doing her own work and keeping Drew company. Monarch Landing provides many of the coloring pages for all the residents wishing to participate.
"We color for relaxation. It's a pleasant way to fill time without watching television," said Drew. "It's been a godsend. I get pleasure doing it and pleasure out of seeing it finished. I find it very enjoyable."
"Sometimes we have wine, and we always talk while we're coloring," said Pat.
Pat and Drew were both happily married when they first met and, along with their spouses, became fast friends.
Drew and his wife, Kathy, moved to Monarch Landing in 2014. His wife passed away two and a half years ago. Pat and her husband Hal moved to Monarch Landing in 2012. He passed away two years ago.
Drew and Pat, who were very involved with Monarch Landing's Catholic faith committee, started spending more time together and became engaged in September 2019. They do not intend to get married but enjoy their commitment to each other and the time they share. "We're just happy with our arrangement and happy to be together," said Drew.