Monarch Landing Resident's Christmas Miniatures
December 18, 2022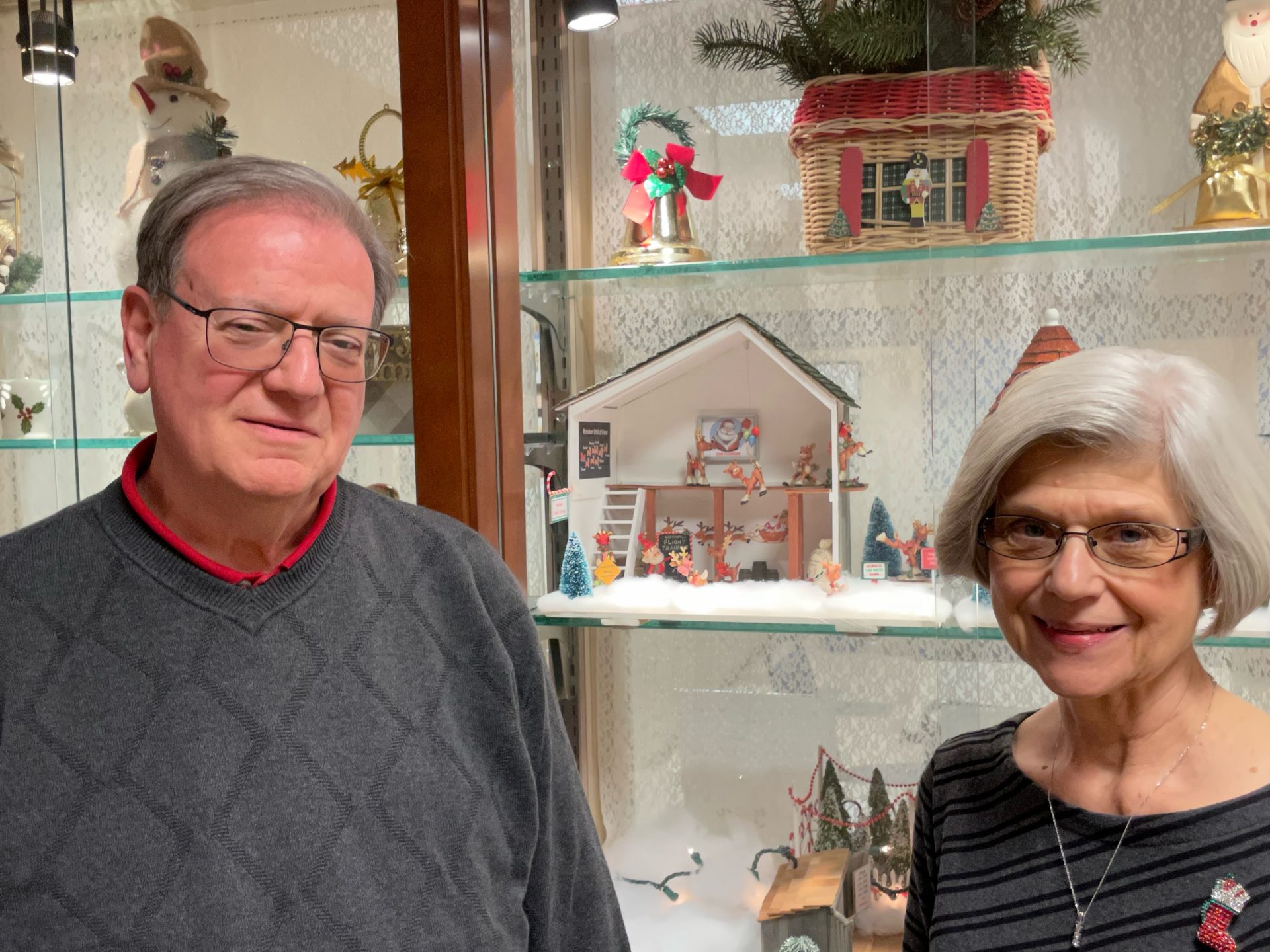 They perfectly convey the meaning of the word enchanting: delightfully charming. The Christmas-themed miniatures, designed and created by Rick Saulig with the artistic eye and assistance of his wife Pati, are completely captivating. The residents of Monarch Landing in Naperville are sharing their perfectly detailed creations, which are on display, with their friends and neighbors in the senior living community.
Rick said he was inspired years ago by his father-in-law. "Pati's dad built a miniature building as a base for their annual family Christmas tree. I've always enjoyed working with my hands and told Pati I'd build her one someday. That was 40 years ago," he said.
Rick, whose career was in corporate real estate, remembers in the mid-80s when he was with GM, doodling an idea on a paper placemat in a pizza restaurant. With a nod to his employer, the drawing was of a design for a miniature Santa's Corvette assembly plant, with elves building the cars and Santa as the plant manager. He set about the painstakingly intricate work of building it, with the mantra, "It's all about the details." The creative, quirky details. It took roughly six months to complete, the result being a delightful rendering of Santa studying design plans, elves building and painting Corvettes and then loading them on carriers. It was subsequently on display in the GM building in Naperville, followed by GM headquarters in Detroit, and then at a local GM dealer.
In 2017, when Rick stopped working, he said, "I needed a transition into retirement." He decided to build a town square for a miniature Santa's village. The concept grew, and the final project was ultimately at least three times bigger than he'd originally planned. In addition to the town square, the model included a post office, toy store, sweet shop, pine tree sales lot, elf band, and a group of elves building a snowman. Adjacent to it was a toy factory. The next section included a barn with a sleigh repair and sales shop, and a reindeer flight school on the second floor.
Every time anyone looked at the buildings, they'd notice something that they hadn't noticed before that inevitably made them smile: a break room in the factory with a Coke machine, miniature Mickey Mouse cookies in the sweet shop, a reindeer suspended from a cluster of balloons at ceiling level in the flight school with another reindeer hopping out of a window, ready to take flight, Santa double-checking a map to plot his delivery route, and more…so much more.
This year, the Sauligs decided to dismantle part of the original Santa's village project, keeping the sweet shop and toy store intact for smaller displays. Aside from creating three new pieces from the original project, they also imagined three new miniatures for family members, each reflecting their relatives' individual interests. The results are an enchantingly detailed flower shoppe, pet store, and music store (House of Rock).
The couple agrees that they enjoy this endeavor largely because it's fun to watch their visions come to fruition. "We'll talk about what we're seeing in our mind's eye, and when you see it come together, it's amazing," said Pati.
Mostly, they added, they love seeing viewers smile at their creations. "They bring a smile to peoples' faces," said Rick.
Monarch Landing
Monarch Landing is a Life Plan Community located on a scenic campus in Naperville, Illinois-named "one of America's best places to live and retire" by Modern Maturity, and "the best city for early retirement" by Kiplinger. Monarch Landing offers independent living, promoting a vibrant lifestyle for active seniors.  The Springs at Monarch Landing offers memory supported assisted living, respite care, rehabilitation, and skilled nursing services, thus providing complete continuing care for seniors. Monarch Landing is owned by Senior Care Development and managed by Life Care Services®. For additional information visit www.WelcomeToMonarchLanding.com