Staff Appreciation at Monarch Landing
December 18, 2022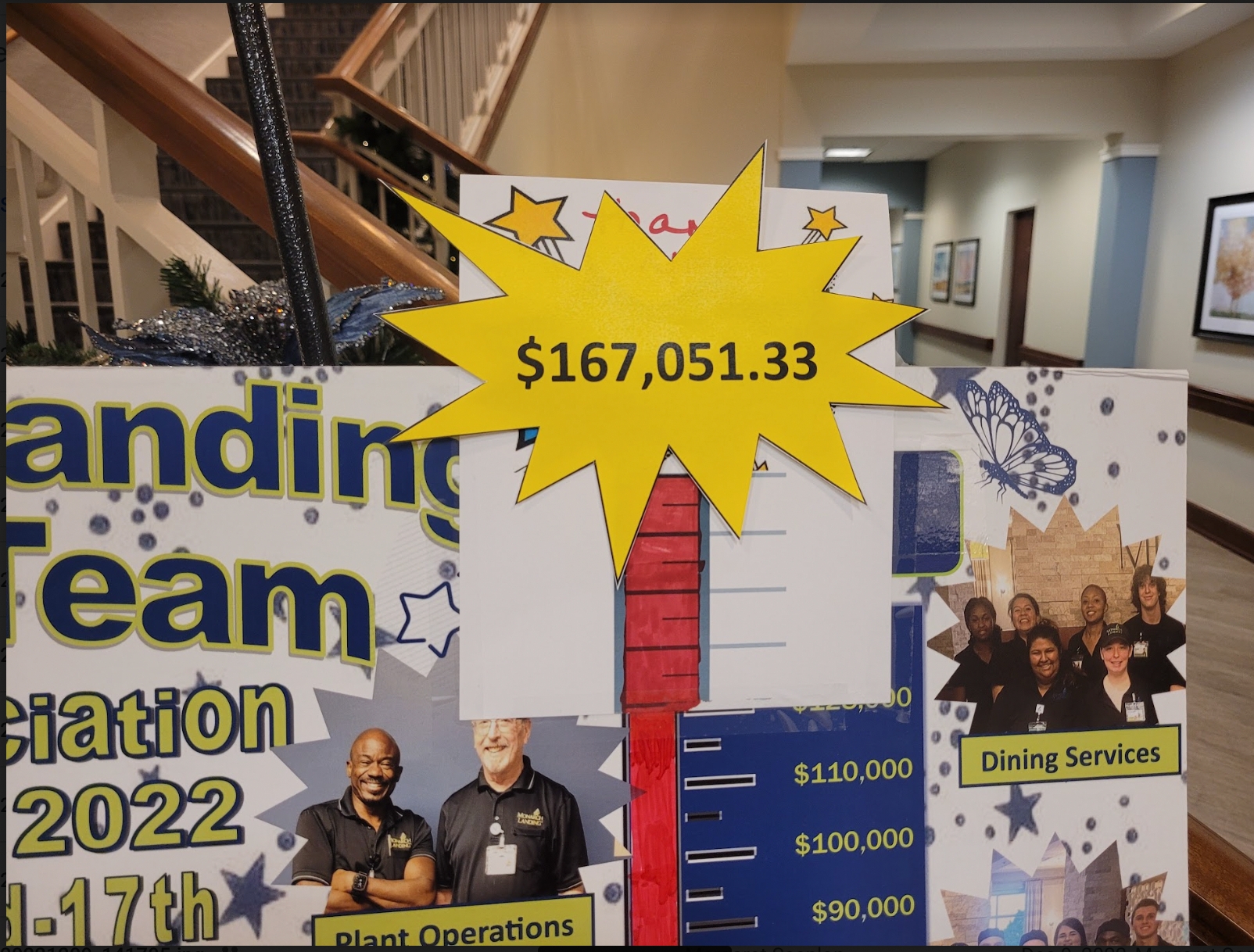 It was an off-the-charts show of appreciation, exceeding their goal by more than 30%!
Each year, the residents of Monarch Landing senior living community in Naperville express their gratitude for the unfailing dedication, kindness, and care demonstrated by the employees through the Staff Appreciation Fund. Because employees are not permitted to accept gratuities or gifts directly from residents, family, or others, the Staff Appreciation Fund is the once-a-year opportunity to thank those who have kept residents happy, engaged, safe and healthy. The fund is a resident-run initiative culminating each year during the holiday season. Last week checks totaling more than $167,000 were presented to hourly staff at Monarch Landing and The Springs at Monarch Landing.
This year, residents Donna Fonda and Nancy Marion were co-chairs of the six-person committee coordinating the effort. "The theme for this year's drive was 'All-Star Team'. We believe strongly in the team concept. The entire staff here works together as a team, and when you do that, the results are wonderful," said Marion. "Working in a retirement community takes special people. Living here is a blessing."
Marion added praise, too, for her fellow residents who contributed enthusiastically to the fund. "The people we live with are thoughtful, generous, caring people, and they wanted to thank everybody. This was an overwhelming act of kindness and appreciation on behalf of the residents. It shows that people are grateful to be here."
Monarch Landing and The Springs at Monarch Landing
Monarch Landing is a Life Plan Community located on a scenic campus in Naperville, Illinois-named "one of America's best places to live and retire" by Modern Maturity, and "the best city for early retirement" by Kiplinger. Monarch Landing offers independent living, promoting a vibrant lifestyle for active seniors.  The Springs at Monarch Landing offers memory supported assisted living, respite care, rehabilitation, and skilled nursing services, thus providing complete continuing care for seniors. Monarch Landing is owned by Senior Care Development and managed by Life Care Services®. For additional information visit www.WelcomeToMonarchLanding.com.