Spend Time With our Feathered and Finned Friends at The Springs
August 10, 2021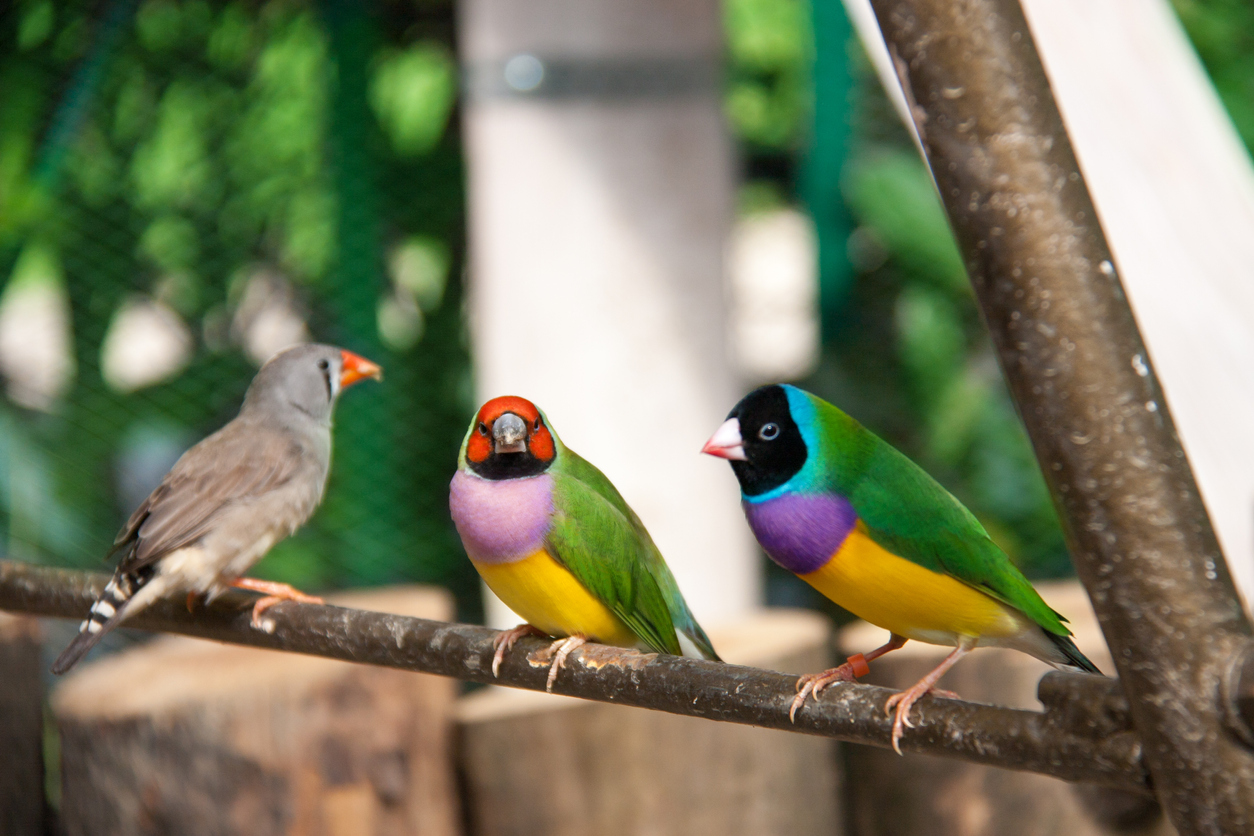 Amidst the hustle and bustle of our daily lives and the cacophony of sounds that often accompany it, there is a unique solace and peace to be found in spending time surrounded by cheerful birdsong, whether it is in the midst of a forest or meadow or standing quietly next to an aviary filled with feathered friends.
The chickadee cheerfully chirping its own name, the gentle cooing of doves, the exuberant trills of the goldfinch, the indignant cry of the bluejay: every bird has its own distinct call that invites us to pause, forget our worries, and spend time in the moment. Turning our attention to the sweet sounds of birds going about their days can even improve our mental health by reducing anxiety levels and stress, fostering focus, boosting productivity, improving our observational skills, and helping us deepen our connection with the natural world.
With so many benefits conferred by these modest winged creatures, it's no wonder that aviaries – which are large-scale, elaborate habitats that make birdsong accessible for everyone to enjoy – have been so well-loved for so long. Archeologists recently found an aviary in New Mexico built by prehistoric Native Americans, where they kept macaws nearly 2,000 years ago, and bird enthusiasts can observe a wide variety of species spotlighted in aviaries around the world. 
At the world's largest indoor free-flying aviary, the 45,000-square-foot Bird Kingdom in Niagara Falls, Ontario, visitors can encounter some 350 different bird species while strolling through multiple habitats, including a Night Jungle and Small Bird Aviary. For the outdoor version of the experience, wing your way to Birds of Eden in South Africa, where a mile or so of boardwalk takes visitors through nearly 76,000 square feet of indigenous forest habitat. Pittsburgh boasts the United States' largest aviary, which not only features a display of more than 550 birds but also a successful conservation breeding program for endangered species such as the African penguin.  
For residents of Monarch Landing in Naperville, a delightful bird habitat is no further than their own backyard. Not only can residents enjoy spotting – and listening to – a variety of feathered friends on the vibrant retirement community's scenic 60-acre campus and the adjacent Illinois Prairie Path, they can now find a colorful, cheerful aviary at The Springs, Monarch Landing's five-star healthcare and rehabilitation center. The Springs also is home to a new aquarium, where residents can rest and relax while observing the languid maneuvers of numerous varieties of fish. 
Studies have shown that spending time at an aquarium can lower blood pressure and heart rate, as well as reduce stress, so it's no wonder this is a well-loved activity among people of all ages. Not only do millions of homes in the United States house an aquarium or fish tank – an activity that gained even more traction during the pandemic – they are also popular tourist attractions. The first public aquarium opened in the mid-1800s at the London Zoo, and can now be found all around the globe. The United States' largest aquarium, Georgia Aquarium in Atlanta, is also the only institution outside Asia to house the whale shark – requiring a whopping 6.3 million gallons of water to do so. Chicago's own Shedd Aquarium, built in 1930, is one of the world's oldest; home to the country's first permanent inland saltwater tank, the Shedd also at one time held the title of largest aquarium in the world. The current title goes to China's Chimelong Ocean Kingdom, which showcases a variety of aquatic life – including more than 15,000 fish – in nearly 13 million gallons of water. 
If you're looking for a way to rest and relax while enjoying the calming sights and sounds of nature, why not take a cue from Monarch Landing residents or other enthusiasts around the world and seek out an aviary or aquarium? Spending some time with our feathered – and finned – friends just might do the trick.